Best Bow Mount Trolling Motors For The Money With Buyer's Guide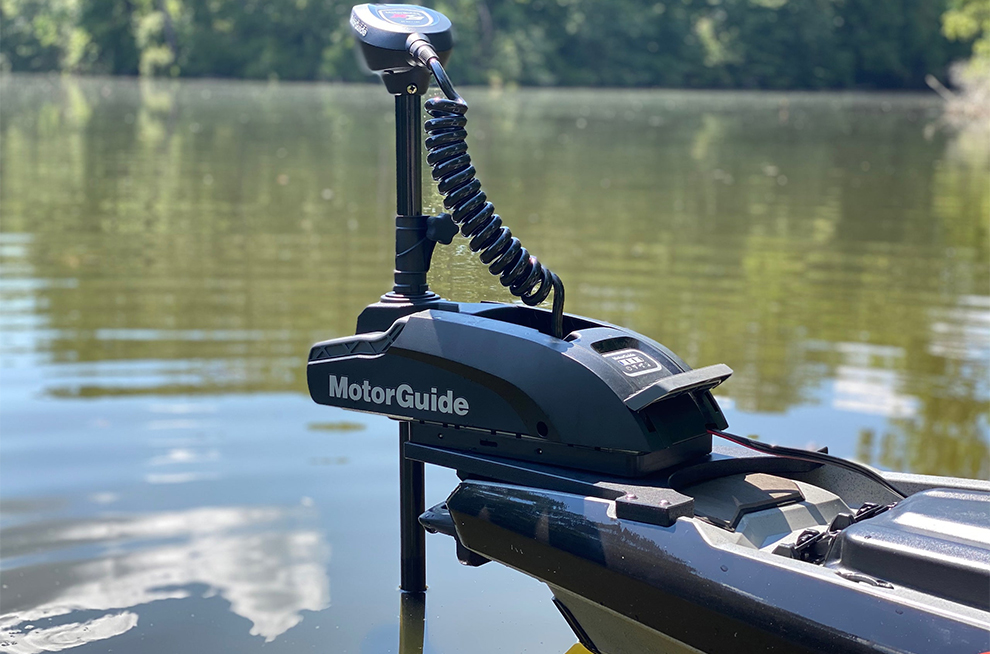 Serious anglers around the world have found the usefulness and convenience of a bow mount trolling motor which gives them a lot better control than the other types. It is the perfect option for people who seek a trolling motor, which makes their fishing boats as maneuverable as it should be. More so, it is definitely more convenient for people who fish in the fore-deck of a bass boat or the open bow-rider. Thus, opting for the best bow mount trolling motors is pivotal. This choice will ensure the performance and outcome of your day on the water.
But, which exactly is the best bow mount trolling motor for the money? The entire decision of picking the best bow mount trolling motor comes down to the boat weight, size, and the purpose for which you intend to use it. We understand that opting for the right motor can be a bit of a task, especially since many variables are available in the market. Unfortunately, the real problem is that the trolling motor manufacturers provide you with only some basic guidelines.
To be honest with you, the trolling motor is not necessarily a bit investment to the boat, but reading through the bow mount trolling motor reviews and choosing the right one will make you feel so comfortable. If you are new to this entire drill, this guide can be immensely helpful for you. Here are a few things that you should know about the selection of the trolling motor for your boat. More so, we also provide you with an in-depth review of a few of the best bow mount trolling motors on the market that you may be seeking.
Quickly Navigate through The Best Bow Mount Trolling Motor For The Money
Best Bow Mount Trolling Motor Reviews
| Product | Rating | Buy Now |
| --- | --- | --- |
| Minn Kota Riptide Saltwater Bow Mount Trolling Motor | 4.8 | Buy now |
| Minn Kota Maxxum 70 Bow-Mount Trolling Motor with Foot Control and Bowguard | 4.5 | Buy now |
| Aquos White Haswing Cayman 12V 55 lbs. Trolling Motor | 4.6 | Buy now |
| MotoGuide Bow Mount Trolling Motor | 4.1 | Buy now |
| Minn Kota Edge 70 Bow Mount Foot Control Trolling Motor | 4.6 | Buy Now |
| Black Haswing 12V Bow Mount Trolling Motor | 4.4 | Buy now |
| Minn Kota Ultrex Bow Mount Trolling Motor | 4.8 | Buy Now |
| Motorguide X3 Bow Mount Hand Control Trolling Motor | 3.7 | Buy now |
Best Bow Mount Trolling Motor For The Money: Buyer's Guide
1) Where Are You Operating?
Freshwater
If you carefully see through our bow mount trolling motor reviews, you will understand that in most cases, the freshwater trolling motors tend to be cheaper than the saltwater brethren. It is primarily because the freshwater is not particularly damaging to the components. But, these motors come equipped with a special propeller, which can cut through the weeds. It is one feature that is absent in most saltwater models. However, we never recommend the use of a freshwater motor in the ocean.
Saltwater
The best bow mount trolling motors for saltwater are the ones that have been engineered to withstand the harmful impact of saltwater. If you are fishing in the sea, you must know that the salt content there is enormous. This can corrode and rust your equipment. Consequently, it will harm the motor, especially the area around the shaft. Typically, the saltwater motors are a little too powerful. It is because they have to compact the ocean and not the calm waters. The good thing about these motors is that you can easily employ them in the freshwater if needed.
2) What is the size of the trolling motor needed?
Often in a lot of the bow mount trolling motor reviews, one of the most confusing things is the motor's size. For the buyer, too, it may get confusing to decide what size motor they need. Precisely, there are three key factors of searching for the right size of the trolling motor, that is, the degree of thrust the vessel needs, the volts required to power it, and finally, the shaft's length needed to offer adequate propulsion via the water. Here are a few things you should know.
Thrust
Thrust means the power that the motor has. In America, thrust is measured in pounds. It is the standard rule of thumb, the heavier the boat, the more thrust is needed by you to move it across the water. Generally spelling, you need at least 2 pounds of thrust for over 100 lbs of the overall weight. Here, the key term that you need to keep in mind is 'overall.' Overall weight needs to be considered because this figure needs to include the passengers and gear weight too. So, only taking into account the boat weight is not enough.
Through our bow mount trolling motor reviews, we would like to state it for once and all, the more the thrust, the better it will be, regardless. Higher thrust enables you to fare through the trickier conditions involving strong currents and winds. However, there is one problem with it too. If the thrust is more, it, at times, tend to cause a higher disturbance in the water. Consequently, the fishes are frightened and tend to go farther from you.
Voltage
The next thing that you ought to consider is the voltage. Voltage is measured in volts. It determines the electrical power that a motor will need. Please understand that if you have a 12-volt motor, then it will need a 12-volt battery. However, if you pick a 24-Volt motor, then it will need two batteries of 12-volts each. Thus, the basic rule is you will need one battery for every 12 volts that the motor demands.
Generally speaking, motors offer less than 55 pounds of thrust, which will need a single 12-Volt battery. From sixty pounds to 84 pounds, twenty volts, employing two twelve-volt batteries, is needed. If the thrust is higher than 100 pounds, it will need thirty-six volts battery, meaning three twelve-volt batteries. This is a general rule, but we recommend you follow the manufacturer's advice on getting the optimum results with your best bow mount trolling motor for the money.
Shaft Length
The last factor that you need to take into consideration is the shaft length. Inaccurate shaft length will not do you any good. If the shaft is too small, the propeller would not be submerged enough to offer you the desired propulsion. On the other hand, if the shaft is too long for the waters you are exploring, you may hit rock bottom and, in turn, damage the propeller.
Operation type
Once you have decided on the motor type after going through bow mount trolling motor reviews, you are ready to get on with all the fun. Now we can focus on the more intricate details. A vital aspect that several boaters take some time to consider is the available operation type. Do you wish for A hands-free foot pedal or a good old-fashioned hand tiller? You can also look for something modern, maybe one that comes with wireless remote control.
Hand steer
Steering via a hand-operated tiller is the most traditional method of boat steering and motor controlling. Most of the tiller controls come with a telescopic handle that allows precise steering with phenomenal maneuverability and easy handling. However, they do require your hands, which can be a pain if you intend to place your hands on the rod at all times.
Cable Steer
Usually, if you go with a cable-operated device, they are governed by a foot pedal. These pedals tend to control cables, which deliver instructions to the motor. They generally have toe or heel operation to control forward power. Many even come with the right and left steering abilities too. Foot pedal cable steering devices are ideal for people who prefer a hands-free experience.
Electric steer
It is a bit on the expensive side of the scale. However, you can find electronically controlled steering options. The most basic of these come with a wireless remote control steering that comes packed with a handheld device or touchscreen. A couple of more advanced options employ GPS technology. Some other compatible devices use autopilot systems, which utilize satellite technology to hold you in a particular place if it is your favorite fishing spot or lead you to your desired destination. However, these options come at a price.
Best Bow Mount Trolling Motors: Top Features To Look For
Like electronic steering, some of the best bow mount trolling motors happen to be incredibly technologically advanced. So, in addition to helping you find the best bow mount trolling motor for the money, we also want you to get the best features in your chosen motors. Here are a few top-level features that you need to consider when shortlisting your choice of the motor from our bow mount trolling motor reviews.
GPS
GPS-equipped marine devices are indeed an essential requirement if you are a serious boater. These devices enable you to locate your top favorite fishing spot easily and effortlessly. These lead you in the right direction if you are ever lost. Some of the best bow mount trolling motors with GPS devices also help you contact help if you are in an emergency situation.
Autopilot
Cruise control and autopilot are pretty useful if you are planning to head out on a long journey. With an autopilot in place, even if your full attention is not on the steering and control, you have nothing to worry about. More so, having an autopilot device leaves you free to simultaneously do some other things, such as keep a tab on the weather conditions, relax for a bit while you are on the water, or get your gear in order. Certain devices also come with spot-lock features, which keep the vessel locked in place via the motor to reposition the vessel if the current attempt to drag your boat away.
Fish Finder Sonar
If you are aware of fish finders' working, you will know that these are much like GPS devices. However, they also come with the benefit of underwater sonar. Using transducer attachments, fish finder sonar sends across multiple sonar pulses via water to detect fish and underwater topography, giving you a clear indication of what's below your hull. For a fisherman, fish finders are one of the must-have devices.
Connectivity & Compatibility
Though some of the best bow mount trolling motors come with Wi-Fi connectivity, when we say connectivity, we mean that it is a motor, which can easily connect to other marine-based devices. A few brands, such as Garmin, provide you with full compatibility in all their product ranges. As a result, you can connect your trolling motor to devices, such as a fish finder. Some motors connect with phone applications, while others can connect with GPS devices. If connectivity and technology is your thing, these are vital factors to take note of.
Stowage & Deployment
As trolling motors are to be deployed, it is worth considering how easy it is for you to get them into the water. A few of them come with spring-loaded features. These make deployment easier. It also makes the motor a breeze to stow and pull up. Several modern motors come with pedal-operation and power-assisted functions, which simplify the job for you. Though it is not a detrimental factor, it does work in the long-run if you do bear it in mind when you go shopping for the best bow mount trolling motor for the money.
Portability
If you like using a kayak or if you have multiple boats, and enjoy using it in a canoe in your favorite river, lake, and desire to employ a pontoon boat for coastal fishing, then we would recommend you to shop for a trolling motor that will cater to all of these. It is best to opt for compact best bow mount trolling motors, which can be easily transported. This can save you a lot of money in the long run.
Parts accessibility
Best bow mount trolling motor for the money always ensures that the spare parts of your motor are easily accessible. It is a vital factor of consideration that you should never ignore. Most of the high-end, reputed brands tend to sell high priced items, but they come with excellent customer service and easy access to the parts. On the other hand, the lesser-known brands tend to sell low-quality products at cheaper rates. However, if anything goes wrong or if a part goes amiss, you may have to replace the complete product because the part is never easily accessible.
Thus, when you shop, you should always read the bow mount trolling motor reviews' comments sections. It will enable you to know about the parts supply and customer service experience of the existing customers.
Bottom line: Which Is The Best Trolling Motor?
Let us just start by saying, after reading these bow mount trolling motor reviews, you may understand one thing – there is no one size that fits all that will please everyone. Something that works well for one fisherman employing a particular boat type may be entirely wrong for another fisher using a different boat type. Thus, if you religiously understand and follow our guide, read through some other reviews, and back it with your personal research, then you will be able to find the perfect trolling motor to satiate your needs.
Happy Fishing!