8 Best Crappie Reels Listed, Reviewed and Compared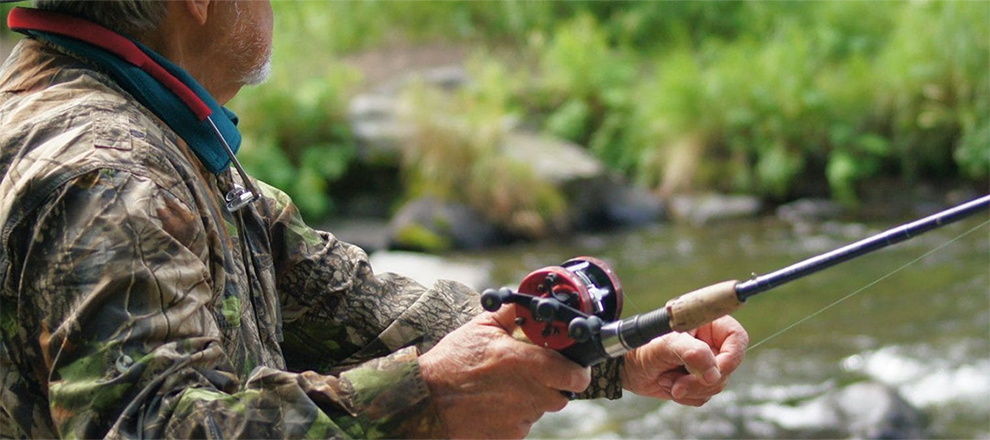 There are way too many fishing reels on the market. Amidst the wide choice, how do you make a pick? Well, if truth be told, it depends on a variety of different factors, such as the water where you troll, your budget, and the style of fishing you engage in.
However, if you like to scour the deep waters looking for the crappies in the cooler months, this article will be helpful for you. Do you enjoy casting your rod next to the fall bush or trees and entice the crappies to bite? How about a straightforward setup where all you need to do is drop your line in the water? In all honesty, all of these fishing techniques can be carried out with any crappie reel of your choice.
But, which is the best reel for crappie fishing? Well, to make things easier for you we will review some of the best crappie reels in this article. You can read through the features, pros, and cons of each of these reels, which will help you make an informed choice. However, if you find this information overwhelming, we have a simplified buying guide for you, which details the features that you need to look for when shopping for the best spinning reel for crappie. So, keep reading, and get set fishing.
Quickly Navigate Through The Best Reels For Crappie Fishing
Best Crappie Reels On The Market
| Product | Rating | Price | Buy Now |
| --- | --- | --- | --- |
| Cadence CS-8 1000 | 4.5 | $92.99 | Buy Now |
| KastKing Summer 500 | 4.5 | $24.99 | Buy Now |
| Okuma Ceymar C-10 | 4.7 | $42.46-$105.53 | Buy Now |
| Pflueger President Spinning Reel | 4.7 | $54.95-$149 | Buy Now |
| Goture Spinning Crappie Spinning Fishing Reel | 4.0 | $23.68 | Buy Now |
| SHIMANO Sedona C2000S Crappie Spinning Fishing Reel | 4.6 | $63.44 – $99.99 | Buy Now |
| Abu Garcia 5600 Bait Casting Crappie Trolling Reel | 4.3 | $99.78 | Buy Now |
| Piscifun Flame Spinning Reels Light Weight Ultra Smooth | 4.5 | $23.99 | Buy Now |
How To Select a Crappie Reel?
Hopefully, after our review of some of the best crappie reels, you have quite a sound idea on all the options available in the market. But of course, we understand that you may have some questions about the crappie reels or the entire buying process. Well, fret no more. We have got you covered. Here, in this guide, we will try to address all your questions one by one.
Gear ratio
When you are shopping for the best spinning reel for crappie, you do have to take into account the gear ratio. Let us understand what this ratio is with an example. See, for instance, if the gear ratio is 5:1, this number describes the number of turns of the spool that one complete handle rotation produces. So, in this case, for every one crank, there will be five full spool revolutions. For gear ratio, 5:1 is only a mid-pack, anything lower will only be slower, and anything higher than this would be faster. Now, why is this number significant? See, this number holds value for two reasons.
Retrieval Speed
If the gear ratio of the best reel for crappie fishing is high, the retrieval speed will also be fast. So, when you are casting at a distance or jigging deep and need to cover a lot of water fast, a high gear ratio will be helpful. However, you also need to bear in mind that a high speed can be counterproductive, and you have to get the retrieve right for the crappie and the lure.
Lure action
The faster you retrieve a spinning lure, the more activity and speed you demand from the fish and the less time you offer it to decide the strike. It can be a great thing in warm, clear water on bright days. However, bear in mind that some lures are best fished quickly, while others work well when retrieved slowly. It would be best to consider how you fish and what you throw when you shop for a lure.
See, when we look for a good crappie reel, the 5:1 gear ratio is indeed a great place to start for the general-purpose reel. All of the best crappie reels that we have listed cluster around this ratio.
Selecting a reel size
For selecting the best spinning reel for crappie, regardless of the fact that the crappie fish have a significantly larger mouth that can swallow larger baits, you must bear in mind that their mouth tissues are quite fragile. Thus, they get easily stuck in the hook. It is for this reason the lightweight reels are the best spinning reel for crappie. Hence, when you shop for the best spinning reel for crappie, opt for something that, despite being lightweight, assures good performance and is easy to handle.
Making a switch to a larger gear will lead to imbalances in the rod, thereby resulting in driving your target away. Another significant advantage of the lighter fishing reel for your crappie fishing is that they provide you with considerable sensitivity. Hence, they can easily detect the slightest nibbles on the line. This makes it the best spinning reel for crappie.
Selecting a quality drag
The drag system is the most vital aspect of any best spinning reel for crappie. It determines whether your line will fall prey to twisting or will go smoothly when you cast it. Both spinning reels and spin cast have a single drag system, while a few may have two.
Usually, the drag system is attached near the tail, either behind the reel or in the spool. When shopping for the best crappie reels, a necessary prerequisite is to look for corrosion-resistant and waterproof drag as they will last you a long time when you are engaging in crappie fishing. Do ensure that the drag works smoothly as it can easily retrieve the catch. You can also gauge other robust spinning reel drag systems, which can withstand extended combat with a more powerful and bigger fish.
Housing
The main body or the housing of the reel also determines whether or not it is the best spinning reel for crappie. There are primarily two options, which most people prefer in the crappie reels. These are graphite and aluminum. Graphite offers incredible flexibility, and aluminum, on the other hand, is a very sturdy and lightweight alloy. There are also some reels that amalgamate the two and make durable housing.
Weight
This has been mentioned earlier too. The reel's weight does have a significant role in your success at crappie fishing. The lighter your best reel for crappie fishing is, the higher are your chances of getting a great catch. Usually, these crappie reels are more lightweight than average reels. Many even weigh as little as two pounds.
Picking a drag type
The primary cause of jerks and backlashes in crappie fishing is the poor-quality drag. Selecting a drag that is sturdy enough to hold a two-pound line mono at the least will help you enjoy a good and eventful fishing day. Usually, the following drag types can be found in the best spinning reel for crappie.
Front drag
Honestly, these systems are quite inaccessible. However, they are undoubtedly the most reliable and powerful picks. They have smoother mechanisms, and mechanical brakes go in this system that prevents the spool speed whenever it is applied.
Rear Drag
Such drags are not in direct contact with the spool. These drags are also very accessible, but they are a bit more complex to operate when you are out there chasing the crappie.
Sealed Drag
One of the best options for spin fishing is the sealed drags. These are waterproof drags and will protect your reel against any water damage, rusting, and corrosion. These are the most recommended and the best drags for crappie fishing.
Final Thoughts
All of the best crappie reels mentioned in this review are of superior quality and a good pick for crappie fishing. However, the best reel for crappie fishing suited for you will depend on your preferences and fishing style. We believe that no two anglers will have a similar view of what's best in terms of gear. We cannot point you in one direction and tell you that this is it, you can buy this reel, and it will be the best reel for crappie fishing.
Understand that these are all good crappie reels, so read through our buying guide thoroughly, and make your choice. In the end, you have to pick a good crappie reel that caters to your needs and matches your spin fishing skill set. However, instead of shopping for the cheap-quality and low priced plastic reels, it is always recommended to invest a little more and find yourself a good crappie reel.
Lastly, we hope that this review did help you find a good crappie reel.