Best Fish Finders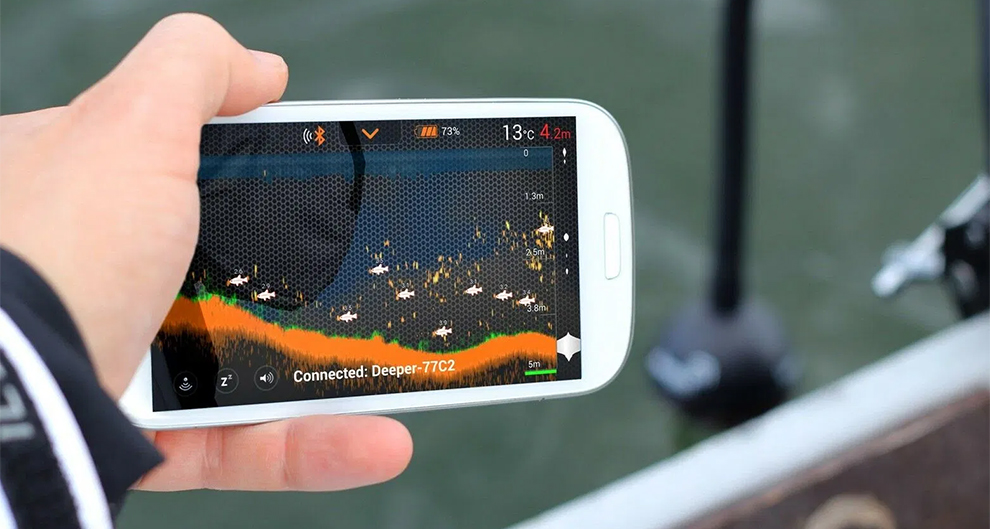 Whether you are fishing for sport or are into commercial fishing, using a fish finder can be of great help in figuring out what is going on below and around your vessel. Today, even the smallest crafts can use a fish finder thanks to the advances in sonar technology.
But, selecting the best budget fish finder can be a tough decision to make.
In fact, the definition of the 'best fish finder' varies from person to person, or should we say from angler to angler. Your budget also plays a major role here. But you cIn case an narrow down the choices for the top fish finders on the basis of device size, built-in features, the technology used, the kind of water you will be fishing in, and the mounting type.
To make the choice easier, we bring to you ten top rated fish finders that include both best budget fish finder and high-end models loaded with top features. But, before we list out our top 10 fish finders, their features, and the pros and cons of each, we will give you a quick brief on what a fish finder is.
In case you are a beginner, you must know of the best fish finder for the money you are willing to invest in. In this article, we will also guide you on what features to look for and give a final verdict on the best rated fish finders for different budgets.
Quickly Navigate Through the Best Fish Finders List
What is a Fish Finder?
A fish finder is a device used by fishermen to locate fish underwater. It works on the technology of SONAR (Sound Navigation and Ranging) that receives echoes from the bottom of the sea with the help of a transducer.
The information is displayed graphically on a digital screen which can be interpreted by a fisherman to trace schools of fish, measure the distance of fish from the ship, map out prime fishing spots, distinguish between fish and underwater debris, etc.
Most of the modern-day best fish finders use CHIRP Sonar that stands for "Compressed High Intensity Radar Pulse" that is capable of showing you fish that do not come in the range of standard sonars.
Some of the top rated fish finders available today are made by Humminbird, Raymarine, Lowrance, and Garmin. The price range for the best budget fish finder starts from as low as $80 and can go all the way up to $2500 depending on the features integrated into the device.
So, let's dive into the top fish finders that you can find in the market.
Our Top Picks For the Budget Fish Finders
10 Best Fish Finders to Choose From
1. Garmin Striker Plus 4 Fish Finder with Dual-Beam
The first in our list is the fish finder that rightly justifies the saying "good things come in small packages." Garmin Striker Plus 4 is the best fish finder for small crafts and kayaks that offers decent features at a great price.
This mountable and portable fish finder comes with a bright 4.3" screen but does not compromise on the image quality. It has an in-built GPS that allows you to mark docks and boat ramps and navigate waypoints.
Garmin Striker Plus 4 integrates Garmin CHIRP sonar for crystal clear imagery in shallow and deeper waters. It also includes Quickdraw contour mapping software that can store up to 2 million acres of map content. It also has various screen modes that can display both sonar and GPS on split-screen.
Another reason for this one making to our list of top 10 fish finders is the dual-beam transducer that also includes a temperature sensor. Despite its small size this best fish finder boasts of powerful depth capability and can also be used offshore.
Features of Garmin Striker Plus 4 Fish Finder
Bright 4.3" QSVGA display with 272 X 480 pixels resolution
Intuitive user interface
Dual-beam transducer with Garmin CHIRP traditional sonar
Built-in Garmin Quickdraw contours mapping software
Water temperature log and graph
Built-in GPS that also lets you view the boat's speed
Frequencies supported: 50/77/83/200 kHz
Transmit power: 200 W (RMS)
Autogain technology that minimizes clutter and maximizes targets
Pros

Split-screen zoom mode
Small and compact
Easy to install
Create and store maps with 1' contours for up to 2 million acres
Backlight screen for a good view in sunlight
Displays fish targets at higher boat speeds
Adjustable depth line
Includes water temperature sensor
IPX7 waterproof
High-sensitivity GPS
Quickdraw contours
Rugged design for every fishing environment

Cons

No pre-installed maps
No NMEA port
Unit cover not included
Should you buy Garmin Striker Plus 4 Fish Finder or Not?
If you are looking for the best fish finder on a tight budget, the Garmin Striker Plus 4 can do a decent job at a great price. This is the best budget fish finder that is equipped with the right features and rugged design to get the job done in different fishing environments.
2. Humminbird HELIX 10 G3N Fish Finder
The Helix series by Humminbird offers some of the best rated fish finders available today. Being of the biggest players in the marine technology industry, Humminbird's Helix 10 has been leading from the front as the best fish finder on the market that has it all.
Though the Helix series is available in different screen sizes, the 10.1" mountable/fixed model has the perfect blend of technology and practicality. It boasts of a large colored TFT screen and intuitive keypad.
What makes this device stand out amongst the rest of the top fish finders is its top-notch imaging technology with Dual Spectrum CHIRP sonar. The SwitchFire sonar feature for 2D fish-finding, with two display modes CLEAR and MAX, allows anglers to take control of the fishing conditions on the fly.
The precise GPS location with built-in Humminbird Basemap aid in navigation and the AutoChart live feature can be used to create custom contour maps.
The Helix 10 is capable of identifying fish arches and fish-holding structures over wide areas and producing crystal clear images up to 200ft on either side of the boat. The high-speed Ethernet connectivity allows you to connect to multiple fish finders and upgrade with add-on technologies.
Features of Humminbird's Helix 10
1-Inch full-color TFT display
Dual spectrum CHIRP sonar
Intuitive fish finder
Keypad control interface
Dual SD card slots
Built-in GPS for chart and track plotting
Built-in Humminbird Basemap
AutoChart Live for creating customized depth contour maps
Pros

Available in 5, 7, 9, and 12-inch models
MHz imaging
IPX7 waterproof
Pre-loaded split-screen view
Bluetooth and Ethernet connectivity
Low-Q CHIRP transducer
Available in multiple configurations
Can be paired with a Minn Kota trolling motor
Compatible with Humminbird LakeMaster and LakeMaster Plus digital maps
Compatible with Humminbird SmartStrike to pattern and locate fish
Compatible with Navionics charts

Cons

It does not offer Wi-Fi connectivity
Not very pocket friendly
Is it good to buy Humminbird's Helix 10 Fish Finder?
Humminbird's Helix 10 G3N is the best fish finder option to consider if you do not mind shelling out some extra money to get some great features installed on your vessel.
3. Humminbird HELIX 5 Fish Finder with SI/GPS
If you are looking for the best fish finder for a smaller vessel then the mountable Helix 5 is the one you should go for. It features a 5" colored and backlit screen that provides good visibility both at night and in direct sunlight.
Helix 5 is the first fish finder in the Helix series that offers 3D quality imaging with all three sonar types i.e. Dual Beam Plus, Side Imaging, and Down Imaging. The zoom feature allows you to focus the sonar to the exact depth you want to locate the fish and its size.
Humminbird's Helix 5 is one of the best fish finder on the market through which you can also screenshot or record the sonar to review the footage later.
The helix 5 is the best fish finder for the money it is being offered for as it comes with a powerful transducer with CHIRP sonar and temperature control that further enhances the imaging capabilities of the device.
It is also compatible with Humminbird's LakeMaster series of digital maps as well as Navionics charts so that you have plenty of fishing playgrounds to explore and set waypoints.
Helix 5 Fish Finders Features
Screen: 5″ color TFT with backlight
Side Imaging, Down Imaging, and DualBeam Plus sonar
Power Output of 500 Watts (RMS)
Power Input: 10.8-20 VDC
Depth Capability: DualBeam Plus: 1500 ft. (457 m); SI/DI: 100 ft. (30 m)
Frequency and Coverage:
DualBeam Plus: 200 kHz / 20° and 83 kHz / 60°
Down Imaging: 455 kHz
Side Imaging: 455 kHz / 86° (x2) – 240 ft. (73 m) on each side of the boat
Power Draw of 615 mA
Transom XNT 9 SI 180 T transducer
Internal GPS: 5 Hz
Pros

Advanced 3D viewing combining smart 2D sonar and CHIRP technology
Compatible with Navionics and LakeMaster charts
Used data from NOAA to display accurate water and weather conditions
Powerful transducer
Sonar recording and screenshot capability
IPX7 waterproof
Micro SD card slot
NMEA 0183 support
Easy to install
Upgradable software

Cons

Limited to 100 ft. depth capability for SI/DI sonar
Does not include AutoChart Live
No active support for SmartStrike cards
Humminbird's Helix 5 Fish Finder in a Nutshell
This is the best budget fish finder that mimics the DNA of the higher-end Helix 10 with lesser features and a smaller screen but with an affordable price tag.
4. Lowrance HOOK2 Fish Finder aka Depth Finder
Next in our list of the best fish finder is a mountable or fixed and easy-to-use fish finder by Lowrance. This is one of the best budget fish finders that is extremely user-friendly and is therefore suitable both for beginners as well as seasoned fishermen.
The Hook2 integrates all the basic features that you want in a decent fish finder. It comes with preloaded US inland maps, DownScan and SideScan, and CHIRP sonar coverage. It also comes with a GPS plotter that can be used to navigate, add waypoints, or follow trails.
Lowrance Hook2 comes in multiple screen sizes (5". 7", and 9") and is an ideal choice for small fishing crafts or kayaks that have limited console space. The reason we have placed Hook2 as one of the finest choices in the top fish finders is that it integrates auto-tuning sonar so that beginners need not waste time fidgeting with the device to optimize it.
The software and maps can also be upgraded with the help of an SD card slot.
Lowrance Hook2 Features
SolarMAX™ Display
Screen size options – 5″, 7″and 9″
Optimized keypad with one-touch access to key features
Transmit Power: 200w RMS Sonar
Sonar Beam Width: 40°
Usable Depth: 80m+ Sonar
Operating Frequency: 200kHz wide angle sonar
IPX7 waterproof protection
Power: 12v DC (10-17v DC min-max)
Max power consumption: <6.1W
Pros

In-built GPS
Automated sonar settings
Suitable for beginners as well as experts
Wide cone angel sonar coverage
Easy to mount and use
All-rounder and affordable
User-friendly interface

Cons

Cannot be updated through a wireless connection
Why Lowrance Hook2 Fish Finder stand out of crowd?
All in all, this is the best budget fish finder that offers different screen sizes to suit your fishing style. This is one of our top contenders in our list of best fish finders that you can purchase for a fairly decent price.
5. Lowrance Elite-7x Fish Finder
The Lowrance Elite-7x is the best fish finder on the market with its DownScan technology combined with Broadband CHIRP sonar that can produce dynamic and accurate down-scans.
While there are several other top fish finders that offer great down-imaging options, but the Elite-7x is truly power-packed best fish finder for the money it is being offered for.
The device sports a bright full color 7" LCD that is easy to view both at night and in direct sunlight. The display has a split-screen that can show explicit images of the fish and other underwater typography.
You can also choose from multiple modes such as ice mode, shallow water, freshwater, brackish water, deep water, slow or fast trolling. It can also display water temperature and is durable enough to withstand different marine environments.
Elite-7x is one of the best budget fish finders to use in shallow waters to spot schools of fish and can mark fish clearly even at higher boat speed. Plus, it comes with easy-to-use menus along with an advanced mode to expand feature selection.
Lowrance Elite-7x Fish Finder Unique Features
7 inches LCD widescreen
Broadband CHIRP sonar
Selectable single-frequency sonar operation
Advanced Signal Processing (ASP)
Transducer: 83/200KHz+455/800KHz
DownScan Overlay technology that overlays down-scan imaging onto CHIRP Sonar
Pros

Easy touch button keypad
IPX7 waterproof rating
Multiple user modes
Multi-window display
One year parts and labor warranty
Supported by the Lowrance Advantage Service program

Cons

Works as a fish finder only
No chart plotter
No in-built GPS
What stop Lowrance Elite-7x Fish Finder to be top choice for FisherMen?
Lowrance Elite 7-x is the top choice for a down-imaging fish finder. But one major lacking is the absence of GPS. Hence the device can only be used as a fish finder and not for plotting your own charts.
6. DEEPER Smart PRO Sonar Fish Finder
Next up in the top fish finders is the best castable fish finder DEEPER Smart PRO. It is one of the most portable and the best budget fish finder that you can use from the shore, along your kayak, from your preferred pier, or through the ice.
Deeper Smart PRO is counted in the top 10 fish finders as it is quite simple to use, you can hook it to a line, cast out the transducer in the water and it will relay the data to your smartphone through a free app.
The device can give instant data on the water depth, bottom topography, water temperature, greenery, and its thickness, etc. And the price tag that it carries makes it one of the best fish finder for the money that can suit all pockets.
Smart PRO certainly deserves a place amongst the best rated fish finders as it not only uses Wi-Fi connection but it also transmits the signals; which means that you can get connectivity for approx. 330 feet of distance and save on your data plan.
It is the sole fish finder in the market whose built-in GPS allows you to create Bathymetric maps from the shore and gives free access to DEEPER Lakebook™.
Features of Deeper Smart PRO Fish Finder
GPS onshore mapping
Used own Wi-Fi signal to increase range
Casting range of 330ft/100m
Scans as down as 260ft/80m
Sends 15 scans per second and 0.5″ target separation
DualBeam (wide scanning beam 90kHz 55° to cover broad areas and narrow beam 290kHz 15°)
Maps depth, finds structure, vegetation, and fish
Supports Bathymetric Management Platform to save, retrieve, and analyze scans and maps
Pros

Extremely portable can be used almost anywhere
Easy connection to smartphone or tablet and syncs with both iOS and Android devices
Every scan and map saved on the Fish Deeper App, and available on any computer using Lakebook™
Data saved on cloud
Suitable for shore, boat, and ice fishing
Install in seconds
Does not need cables
No internet connection needed

Cons

Does not work with older devices
Lithium-ion batteries need to be recharged regularly regardless of use
Deeper Smart PRO – The Best Fish Finder
DEEPER Smart PRO is the ultimate choice for a highly portable and easy-to-use fish finder. The free app and compatibility with Android and iOS devices enable you to have a fish finder that can fit in your palm but in no way compromises the accuracy.
7. Garmin Fish Finder – ECHOMAP Plus 73cv
Adding to our list of top 10 fish finders is the mountable/ fixed fish finder ECHOMAP Plus 73 cv by Garmin. This model from Garmin comes with additional features that were missing in the earlier models such as:
ActiveCaptain compatibility,
Wi-Fi,
SailAssist, and
Touchscreen technology.
It is one of the best rated fish finders that offer top-notch fishing technology with CHIRP ClearVü scanning sonar and CHIRP traditional sonar along with a powerful GT22 transducer. It is also compatible with Panoptix all-seeing sonar that adds on the functionalities.
Another feature that compels us to include this device in our top fish finders is the in-built Wi-Fi that gives access to OneChart through the free ActiveCaptain app. You can also create customized contour maps with the help of Quickdraw software.
Garmin Fish Finder Features
Bright 7" diagonal display with sunlight-readability
Keyed-assist and touchscreen combo
Preloaded LakeVü g3 inland maps covering more than 17,000 lakes with 1' contours
ClearVü with built-in CHIRP
Built-in NMEA 2000 support
Split-screen zoom capabilities
IPX7 water-resistance rating
Pros

Lightweight and user-friendly
Built-in Wi-Fi
Personalized real-time mapping
Integrated Navionics charts
Plenty of accessories available

Cons

No side-imaging capabilities
Limited offshore capabilities
Why ECHOMAP Plus 73cv is the Best Garmin Fish Finder
The ECHOMAP Plus 73cv is a good option to consider for the best fish finder on the market that has all the desirable features and offers high-res images and accurate navigation.
8. Garmin ECHOMAP Plus 43cv –Affordable Fish Finder
Another Garmin make that has made it to our list of mountable top 10 fish finders is the ECHOMAP Plus 43 cv. The features are pretty much similar to the ECHOMAP Plus 73cv but what makes it different is its compact 4.3" color screen that is suitable for small boats or kayaks.
This fish finder too offers superior ClearVü sonar images and comes with a built-in GPS. The GT20 transducer offers excellent target separation. ECHOMAP Plus 43 cv is amongst the best fish finders that support Quickdraw Contours mapping software to create personalized maps that you can also share with the Quickdraw Community.
The device is one of the best fish finder for the money it charges as it comes preloaded with 17,000 LakeVü g3 maps of rivers, reservoirs, and lakes and up to 1' contours for accurate fishing.
Garmin ECHOMAP Plus 43 cv Fish Finder Features
Bright and sunlight-readable 4.3" screen
GT20 transom mount transducer
CHIRP ClearVü scanning sonar
Built-in Quickdraw contours software for mapping
Compatible with Navionics data and preloaded maps
5Hz GPS antenna
Pros

Micro SD slot for additional memory
Easy to use
You can share routes and waypoints with other ECHOMAP and Striker users
Lightweight (1.6 lbs.)
Quick-release mount

Cons
Things that make Fish Finder ECHOMAP Plus 43 cv special in market – its Size
ECHOMAP Plus 43 cv is one of the best budget fish finders that are easy-to-use and its small size makes it the perfect fit for tight spaces.
9. Raymarine Element 7 Fish Finder with HV
Next in our list of top fish finders is a mountable/fixed fish finder by Raymarine that is known for its accuracy and convenience of use. The Element 7 with HyperVision CHIRP technology sports sunlight viewable 7" multifunctional display and its RealVision 3D sonar offers a crystal clear and high-res imagery.
The functions can be accessed through dedicated keypad controls that also include a prominent waypoint key so that you can mark your favourite spot with ease.
Raymarine Element 7 HV integrates a 28-channel in-built GPS and has position enhancement abilities facilitated through MSAS, EGNOS, GAZAN, QZSS, and WASS.
The reason we have included this one in our top 10 fish finders is that its quad-core processor can produce continuous 3D imaging that can help you identify contour changes.
Raymarine Element 7 HV Fish Finder Specifications
7" high-resolution display of 840H*480V
Quad-core processor for fast response
Smooth RealVision 3D imaging and instant chart redraw feature
HV-100 transducer to support all built-in sonar types
HyperVision 1.2 MHz super-high-resolution sonar technology
RealBathy sonar mapping
28-channels internal GPS
Can save up to 5,000 waypoints in the internal memory
Supports Navionics charts and maps for Canada and the U.S
Pros

Fast and accurate
Supports multiple sonar functions
High-resolution images
Multiple navigation features
Fairly easy to install
Offers Bluetooth and Wi-Fi connectivity
Comes with a track plotting and creation function

Cons

Does not support 50KHz and 83KHz sonar
Does not have circular flasher sonar view
Why Raymarine Element 7 HV is the best among all?
If you are looking for the best fish finder loaded with features, then Raymarine Element 7 HV has some great offerings to excite any angler. It is amongst the best fish finder on the market that works brilliantly for inland navigation and fishing.
10. Lowrance Fish Finder – FishHunter PRO
The last one in our list of top fish finders is an affordable unit offered by Lowrance. The FishHunter PRO is one of the best fish finder for the money as it has the world's fastest tri-frequency transducer that can rotate between three frequencies to provide high-res imagery.
If you are looking for the best fish finder on the market that is wireless or Castable and is loaded with features then this is the one to go for. This device is counted in the top fish finders for onshore or ice fishing and offers multiple views including raw, fish, and ice flasher views.
The FishHunter comes with Wi-Fi that can cover a range of 150 ft. without the need of an internet connection and can transmit data on your smartphones or tabs through the FISHHUNTER app. You can also create custom maps and mark your favourite fishing spots.
Features of FishHunter PRO
Max depth Up to 160 ft./55 m
Frequencies supported – 381kHz, 475kHz, and 675kHz
Wi-Fi range up to 200 ft. (65 m)
Integrated GPS
Course over Ground (COG)
Current draw @ 12V: 0.23A
FISHHUNTER app allows you to log catches and share data with other users
Pros

Small, compact, and lightweight
Supports Wi-Fi and no data connection required
Dedicated fishing view for ice fishing
Built-in LED light to spot the unit in the dark
Compatible with iOS and Android phones
Difficult to submerge that improves Wi-Fi connection

Cons

Requires a smartphone with Wi-Fi
Features that makes the Best Fish Finder
Primarily there are two major types of fish finders that you can find in the market – fixed and portable. While the mounted ones are a bit pricy but they are the best rated fish finders with tons of features.
On the other hand, the portable ones are great for onshore fishing. To select the best fish finder that suits your needs, mentioned below are the features that you must look for in the top rated fish finders.
Device Size
Fish finders are available in multiple sizes. Keep the size of your craft in mind when searching for the top rated fish finders. Since most of the boats are tight on space you do not want your fish finder to clutter the area.
Display
Do not only focus on the screen size but also consider the screen resolution while buying a fish finder. The more the pixels better will be the clarity. Also, go for colored displays as they are easier to read in different weather conditions.
Transducer
A transducer is a crucial feature that will determine the quality of information that is displayed on your fish finder. The more powerful the transducer the stronger signals it will be able to send to greater depths. A power-packed transducer can easily differentiate between fish patterns and other underwater objects.
Frequencies
Higher frequencies work better in shallow waters and lower frequency fish finders are more suitable for depth penetration. However, lower frequencies cannot generate detailed imagery. While selecting from the top rated fish finders frequencies between 200 kHz and 800 kHz are ideal for shallow waters and 50 kHz and 80 kHz for deep waters. Though more expensive to buy, the best rated fish finders with CHIRP sonar can transmit dual frequencies to produce crisp and detailed images.
View Types
Most of the top rated fish finders provide both SideScan and DownScan for easy fish spotting in different water conditions. The SideScan covers the area around the boat and is suitable for shallow waters. The DownScan gives a view of water underneath your boat and works well in deeper waters.
Transducer Mount Types
Since transducers require some effort to install, depending on the design and space on your boat you can select from various mounting types. Some of the popular mounting types are transom-mount, thru-hull mount, in-hull mount, and trolling motor mount.
GPS
Having a GPS enabled fish finder can be very handy to navigate and pinpoint your favorite spots. It can also be very useful in emergencies.  However, this feature adds to the cost of the top rated fish finders.
Integrated Maps
Most of the best rated fish finders come with pre-installed maps and charts of the USA and Canada's inland waters. Look for the package that is being offered by the company.
Water Type
When shortlisting the best rated fish finders that will suit your needs it is also important to consider the type of water you will be fishing in. Usually, saltwater will require tougher and more expensive devices to produce clear images. A good device will be the one that can meet both saltwater and freshwater requirements.
Which is the best Fish Finder?
With that, we come to the end of our list of best fish finders.
Since every angler has different needs and preferences in fishing, checking out the top rated fish finders is crucial before you zero down to any one of them.
If you want to go easy on your pocket then Garmin Striker Plus 4 is a great option.
For mid-range and good features, Humminbird's Helix 5 is a good choice.
And if you are ready to shell out the big bucks and want top-notch features then Humminbird HELIX 10 G3N is the best fish finder to go for.