Best Trout Line To Make Trout Fishing Experience More Rewarding For You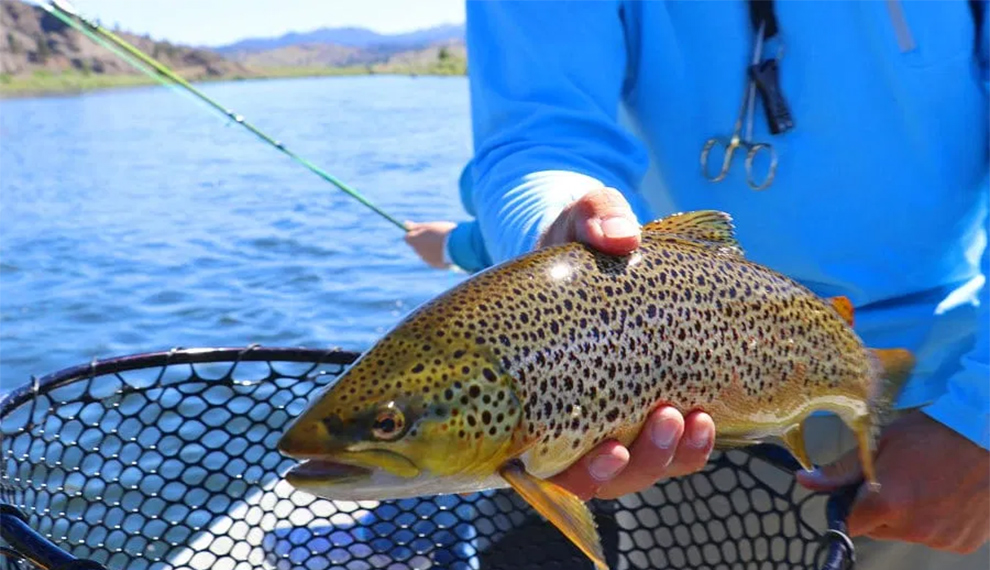 Wondering which is the best fishing line for trout? This is perhaps one of the most common questions from anglers who wish to catch the fussy and shy line trout. While some anglers prefer Monofilament, others vouch for a high-quality Fluorocarbon. If you ever walk into a fish tackle shop, you will be overwhelmed with the number of choices you have for the best trout line. Selecting the right fishing line is also crucial as it can significantly improve your chances of catching a rainbow trout or a brook trout. And if you are lucky enough, you may even chance upon a brown trout someday.
However, no single fishing line can be called the ultimate fishing line for trout. What may work for one may not work for another. Therefore, to help you out, TrueBluefishermen has compiled a list of the best fishing line for trout under the three popular categories, i.e., Monofilament, Fluorocarbon, and Braided lines. There are plenty to choose from, but we have tried to narrow it down to our favorites and mentioned their pros and cons. We will also guide you on the things you must keep in mind while selecting the best trout line. Plus, we will answer some of the commonly asked questions.
So, let us take a look!
Now again, there is no definitive answer for the best fishing line for trout. Every type has its own advantages and disadvantages and would work differently in different water and weather conditions. So the best way would be to try a few out and then decide which one works the best for you.
Comparison Table of Best Trout Line
Table of Content
Best Fishing Line For Trout
A. Monofilament
Monofilament is the most common and all-rounder line used by anglers. As the name suggests, it is a single piece of filament, usually nylon, that is stretched out and set into a thin tube. Mono line has good elasticity that does not let the line snap from the impact of a fish. It is also a popular choice for beginners and budget-conscious anglers as it is cheaper than the other types and works reasonably well on all reels. The monofilament line is also preferable for topwater fish as it floats on water.
The first contender in our list of best trout lines is the Trilene XL Monofilament Fishing Line from Berkley. This fishing line is quite popular as the best monofilament fishing line for trout   for launching smoothly, and it casts far. It is strong and has a good resistance against wear & tear and abrasion. It also does not break or stretch when handling tough fish. This line does not coil up quickly, nor does it give into kinks and twists, giving you optimum control. It is one of the best line to use for trout fishing, versatile enough to suit different baits and techniques, and ideal for both saltwater and freshwater conditions. It is also available in different colors, strengths, capacities to meet fishing preferences.
Pros

Smooth casting
Offers good resistance
Durable and high-quality
Allows stronger knots
Low memory
Does not coil over time
Round and smooth
Wear and tear-resistant
Abrasion-resistant
Suitable for saltwater and freshwater
Available in different colors, strengths, and line capacities

Cons

No heavy-weight tests available
Overall Best Trout Line In Monofilament
Next in line for the best fishing line for trout is an award-winning manufacturer KastKing, known for making top-quality fishing products. Their monofilament fishing line, made from superior nylon material, has earned a high rating for providing maximum efficiency in any fishing condition and for different techniques. The reason why we consider this product one of the best monofilament fishing line for trout is that it has a thinner diameter, strong abrasion resistance, and tensile strength of up to 30 lb. test to handle tougher fish. It is made using a unique paralleled roll track technology that eliminates line memory and keeps it from digging in on the spool. Its low memory also offers better control to beginners. This monofilament fishing line is the best trout line that offers excellent cast control and helps mitigate backlashes or wind knots.
Pros

Low memory
Thinner than other monofilament lines
Abrasion-resistant
Paralleled Roll Track technology keeps it memory-free
Low water absorption for quicker retrieval and to keep it limp-free
Easy and smooth casting
Available in different colors
Does not curl, knot, or tangle
Lesser backlash
Suitable for saltwater fishing and freshwater fishing
Does not dig into the reel
More affordable

Cons

It can get stretchy
It is visible in the water
For those looking for the best trout line for lightweight fishing, the Trout Magnet S.O.S. does the job pretty well. This fishing line is a copolymer line that is similar to mono but has a lower stretch and memory and offers better casting. It is also the best monofilament fishing line for trout as it is stronger and thinner than mono and more abrasion-resistant compared to lines of similar diameters. The line is also pretty smooth and has great knot strength. It has got a good color that makes it hard to spot in most water conditions, making it the best choice for stealth fishing. The Trout Magnet is available in 2, 4, and 6 lb. tests, but is not suitable for fishing heavier trout.
Pros

Thinner and stronger than standard monofilament line
Abrasion-resistant
Ideal for lightweight fishing and topwater lures
Better stretch
Offers better casting distance and manageability
Clear underwater
Easy to manage knots
Affordable

Cons

Tends to break over 2lb test
Too much memory
Does not last more than a season
Limited test options
Does not have color options
B. Fluorocarbon
The next best trout line variety is the fluorocarbon fishing lines. These are similar to monofilaments as they are also made of a single strand. However, they are made of denser material and are heavier by size. Fluorocarbon is most commonly used as a leader and is a fast-sinking line which is quite sturdy. It is for this reason, fluorocarbon line is an excellent choice for bottom fishing, used with jigs, dropshots, and other bottom techniques. It also has lesser stretch than mono, making it suitable for trolling. Since it has a refractive index close to water, it not visible underwater. Therefore, fluorocarbon is considered one of the best fishing line for trout fishing in clear water.
Best Fluorocarbon Line
The first Fluoro product joining the league of the best fishing line for trout fishing is the P-Line Fluoroclear. This fishing line is a blend of nylon and fluorocarbon that offers better knot strength. Its smaller diameter also makes it the best line to use for trout fishing. It has a smooth touch but immense strength, therefore, you can also use it as the main line. It offers excellent castability and has low memory which means you won't have to deal with a curled-up fishing line any soon. The P-Line Fluoroclear Clear fishing line is the best trout line that works well with different fishing reel types such as baitcaster or spinning reel. If you do not wish to spend on a 100% fluorocarbon line, the P-Line Fluoroclear is one of the best type of line for trout fishing that is available at a lesser cost but has all the characteristics of a typical fluorocarbon line.
Pros

Superior castability
Low-stretch properties
Low memory
Fluorocarbon coating offers strength and stability
Practically invisible underwater
Higher knot strength
Suitable for small baits and larger plugs

Cons

Some users state that the line breaks with heavier forces
Lacks in knot strength at times
Best UV Protected Line
If you are looking for hybrid fish lines, the RUNCL PowerFluoro is one of the best trout lines in the market. This best fishing line for trout fishing is made of copolymer at the core with 100% fluorocarbon outer coating. The PowerFluoro derives its flexibility and low memory from the core, and the outer coating offers better shock resistance, abrasion resistance, and knot strength. The fluorocarbon coating makes it virtually invisible to the fish. It is for this reason that we consider PowerFluoro as one of the best fluorocarbon line for trout fishing in stealth mode.
Another feature that makes it the best line to use for trout fishing is the UV resistance that prevents it from sun damage and improves its durability. The high-density PowerFluoro is the best trout line for ice fishing as it can quickly reach the desired depth and its extra-sensitivity allows you to feel even the slightest bite.
Pros

Excellent shock strength
Abrasion-resistant
The hybrid line offers better knot strength
Ideal as a fishing leader line
Quicker sinking
Low stretch and enhanced sensitivity
UV-resistant
Uniform line body
High-density construction with zero water absorption
Affordable pricing
Best for ice fishing and freshwater

Cons

Not ideal for saltwater fishing
The next product that we wish to feature in our list of best fishing line for trout is the first power-packed species-specific Fluoro leader designed to target salmon, trout, and steelhead, thus the name STS. Made up of a fast-sinking 100% fluorocarbon, it offers unmatched abrasion resistance and incredible knot strength. Even though it has a smaller diameter than monofilament lines, it is one of the best trout lines that can take on maximum impact. What makes it the best fluorocarbon line for trout is that it is practically invisible to the gamefish due to its lower refraction index. The Seaguar STS Leader is designed to handle tough fish, tougher rocks and, the most unforgiving water structures. It is also the best type of line for trout fishing since it skinks quickly, which means you can reach your target zone quicker.
Pros

Abrasion-resistant
Can handle the maximum impact
Low light refraction makes the line invisible
Fast-sinking
Level wind technology helps to maintain strength, smoothness and boosts castability
Smaller diameter than monofilament
Offers enhanced knot strength under pressure
Less visible than monofilament
Available in several weights
Clear coloring helps in bait presentation
Affordable

Cons

Can be too thin for certain fishing styles
Lacks knot strength sometimes
Comes with CA Proposition 65 warning
Another excellent product from KastKing making it to our list of best fishing line for trout is the FluoroKote. This fishing line is again a hybrid of copolymer fishing line with 100% fluorocarbon coating. This best trout line combination ensures that the fishing line possesses all the attributes of a Fluoro line but at the fraction of its cost. The copolymer core adds to its low memory and superior castability while the Fluorocarbon reduces the line's visibility underwater. Besides that, the FluoroKote boasts of superior abrasion resistance, faster-sinking, lower stretch, and less water absorbency. Its smaller diameter also makes it the best fluorocarbon line for trout, especially in situations like moving baits, spinnerbaits, and crankbaits.
Pros

Thin and strong
The fluorocarbon coating makes it virtually invisible
Thin diameter offers higher reel capacity
Faster-sinking helps to reach greater depths quickly
Highly-resistant to abrasion
Superior knot strength
Low-memory and lower stretch
Better castability and sensitivity
More affordable than 100% fluorocarbon
Low water absorption
Budget-friendly

Cons

Some users state that the line tends to slip when in use
Not ideal for topwater lures
Sunline is quite popular amongst professional anglers and it manufactures one of the best fluorocarbon line for trout. The Super FC Sniper is a 100% fluorocarbon fishing line with a triple resin coating that gives it a low memory and a softer feel while handling. This attribute makes it easier to cast and tie complicated knots on the fishing line. This coating also makes it resilient against hard abrasions as it can easily withstand being rubbed against a rough surface or a sharp-edged rock.
Another reason that makes it the best fishing line for trout is that Super FC Sniper is suitable for different applications and is one of the best choices for handling heavy cover applications. Its uniform diameter bolsters its sensitivity and offers greater lure control. This Fluoro fishing line is also available in clear and green color to offer improved underwater camouflage.
Pros

High abrasion resistance
Suitable for heavy cover applications
The triple coating offers softer touch and makes it more manageable
High density offers faster sinking
Available in green color that offers greater invisibility underwater
Non-absorbing nature offers better durability
More resilient to weathering

Cons

Some users complain that the line creates snags on the spool
It tends to get stretched and becomes weaker
It is slightly expensive than braided and mono fishing lines
C. Braided
The braided fishing line is made of synthetic fibers such as nylon or Dacron. It is best suited for gamefishing in saltwater or for fishing in low-visibility waters. The braided fishing line is stronger than the monofilament and fluorocarbon and is commonly used for fishing larger species. As this fishing line does not stretch it allows anglers to better feel the bite. They also work well for weeds and heavy vegetation as they do not get caught up and can slice their way through. However, avoid using braided lines when you need some line stretch, e.g. for trolling soft-mouthed fish. Since trout fishing is usually done in clear water it is easy for the line-shy trout to spot the braid. Braided lines work as the best trout lines for deep dropping and precision jigging. You can also use a braided fishing line as the main line with a monofilament or Fluoro leader.
Best Braided For Trolling
The PowerPro Spectra has stood the test of time and is still one of the best braided fishing line for trout in the market. Constructed with the highest quality material, this fishing line is one of the strongest lines despite being relatively thinner than the other braided counterparts. It also lasts longer and even after several uses it retains its green color. It is one of the best fishing line for trout fishing as it can withstand any abuse and won't break or snap easily. Its thin diameter and near-zero stretch also offer higher sensitivity to the anglers, which especially comes in handy when dealing with trout. Whether you are fishing for trout, bass, or panfish, this three-end braided fishing line will surely up the ante of your fishing game.
Pros

Round and smooth
Ultra-thin compared to other braided lines
Offers incredible sensitivity
The spectra fiber offers excellent abrasion resistance
High strength-to-diameter ratio
The packaging box protects the remaining line and you can spool directly from the box
Has a built-in cutter
Includes arbor tape

Cons

It is expensive
Some users mention that it tends to form wind knots
Sometimes the line breaks at 30lbs
It tends to loop with too much line on the reel
The second braided fishing line that we want to feature in the best braided fishing line for trout is the Spiderwire Stealth fishing line. This fishing line gives you one of the most durable and best trout line products out there as it is made from fluoropolymer, the same polyethylene plastic used in heavy machinery and bulletproof vests. Fading and wear down due to UV rays is a common problem with fishing lines. To counter this drawback, the Spiderwire fishing line comes with a color-lock technology wherein, an extra thin coating is applied to the line to give it extra protection. This color coating also helps to reduce friction and resist fraying and allows you to cover a greater distance. Its smooth line quality also makes casting noiseless. Another feature that makes it the best fishing line for trout fishing is its availability in different colors to match any water clarity.
Pros

Easy to cast
Highly durable due to extra color coating
Anti-fraying
Resists line digging
Does not wear out easily
Offers excellent knot strength
Works well with baitcaster and spinning reels
Offers ideal visibility in all water conditions
Available in different colors to match water clarity

Cons

Not ideal for strong currents or waves
Tends to create a little friction
Can knot up easily compared to the other lines
The last one in our best braided fishing line for trout is the fly fish backing line by SF. It is a durable Dacron-based line that can be used to pull out a fish when a lot of line is pulled off your reel. This backing line is one of the best trout lines as it is resistant to UV exposure, rot, or abrasion. It has an eight-strand hollow braided structure that curls easily, which means it is easier to tie a knot without damaging any fly guides. Due to its sturdy construction, this fishing line does not fray or split easily. It is available in several colors and is suitable for freshwater fishing. Despite being made of Dacron, it is relatively slim and does not over-congest your reel. The SF Fly Fishing backing line is the best line that will complement all fly lines.
Pros

Made of high-quality material
Does not fade
Rot and UV resistant
Strong and sturdy
Complements all fly lines
Pliable and easy to knot
Abrasion-resistant
Does not fray after cutting or attaching to other lines
Available in 20lb and 30lb
Good customer service

Cons

Tends to tangle when unspooled
Some users complain about the faulty construction
Things To Consider Before Picking Up The Best Trout Fishing Line
Line Weight
A 2 to 6 lb. test range is the best trout line for an average-sized freshwater trout. If going for a bigger catch in saltwater or when trolling, you should opt for an 8 or 10 lb. test. In case you are planning and expecting to chance upon a huge brown trout or lake trout, you might want to beef up to the best fishing line for trout of around 20 lb. test.
Fishing line visibility
You can either select a monofilament line that is similar to the color of the water or go for the fluorocarbon since it has a low refractive index which makes it almost invisible underwater. You must also choose a thinner diameter to ensure that the fish won't notice it.
Strength
The fishing line must be powerful enough to do the job. You may want to go for a thicker line due to its durability. However, a thicker line will be more visible in the water. Select a line that is thin yet strong to handle your fishing needs.
Stretch
While a more flexible line will work better in absorbing shocks, it will lead to lesser sensitivity between the lure and the rod tip. On the other hand, a zero-stretch line will let you feel every movement of your fish. Another point that will affect the line stretch is how you plan to fish. If you plan to drop the bait and wait, you need a line that has a low-stretch for higher sensitivity. A higher stretch line will be preferred for topwater baits.
Line Memory
The weight exerted by the fish tends to loosen the lines over time. Therefore, low memory is better than high memory. A fishing line with high memory is hard to cast and tends to tangle. It will float and twist on the water surface instead of sinking down, making it prone to bird nests.
Frequently Asked Questions
Ques 1. Is trout fishing hard?
Ans. Catching a trout is not difficult but catching them regularly would require some skill and knowledge. Trout is a smart fish and tends to get skittish, therefore, they would be easy to catch in areas that have not been heavily fished. As a rule of thumb, don't try to fish in the same spot. If fishing in lakes, try to identify areas that have the least pressure.
Ques 2. Does line color matter for trout?
Ans. Trout is a shy fish and can get wary if it spots something odd in the water. So, yes, the color of the fishing line does matter. To have the best shot at catching a good trout, you should select a line color that blends with the color of the water.
Ques 3. What is the ideal fishing gear for trout?
Ans. We would recommend a 6 feet spincasting or spinning rod and a 4 lb. fluorocarbon fishing line. You can use a size 8 hook and a couple of red/white bobbers. You can use PowerBait or PowerEggs and a package of #5 lead split shot.
Ques 4. Can you catch trout fish with a regular rod and reel?
Ans. It is best to use dedicated rods & reels meant for trout fishing. You can check out some of the best reels for trout here. However, generally speaking you can opt for fly fishing or spin fishing as per your preference. For spin fishing, go for a shorter 5-6 feet light model with a 4-6 lb. monofilament fishing line. For fly fishing, a 7-9 feet rod would be ideal with a 4-6 lb. line and with floating or weight-forward lines.
Conclusion
Selecting the best type of line for trout fishing can bolster your chances of scoring big. However, which line would be the best for you will depend on several factors as mentioned earlier. The weather, fish size, water type, location, and boat or shore fishing will also have a role to play. However, if we had to zero down to the ultimate and the best trout line, it would definitely be a good-quality fluorocarbon fishing line. Now, it is up to you whether you want to use it as a leader and have a strong braided line on the reel, or you want to stick to a Fluoro line only, the choice will be very personal and depend on your angling skills.