Best Tandem Fishing Kayaks: 8 Best Two Person Kayaks Pros & Cons Reviewed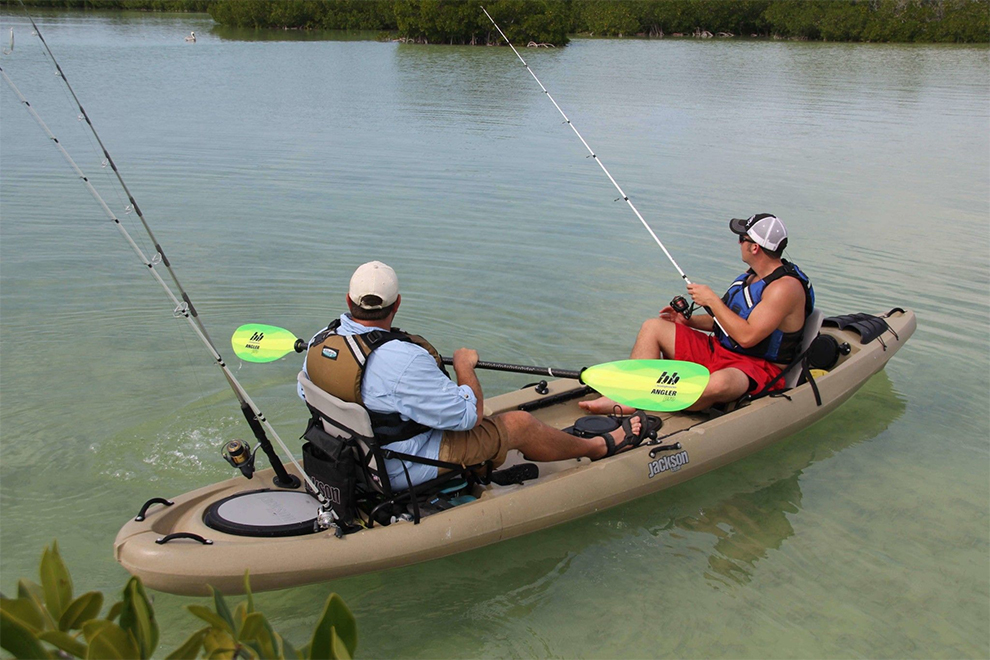 The best tandem fishing kayak is a suitable option, preferably for parents who like to fish with their kids or friends looking forward to pitching on one vessel instead of investing in two or couples who wish to spend some quality time together. The idea is to ensure that you get along with the person with whom you decide to paddle.
Shopping for the best tandem fishing kayaks can be quite a daunting task, especially if you look at the price tag. Fortunately, you are smart enough and decided to do your homework before making a purchase. Here, we have compiled the tandem fishing kayak reviews from several hundreds of paddlers from around the world to aid your quest.
Quickly Navigate Through The Best Tandem Fishing Kayaks
Best Two Person Fishing Kayak Reviews
| Product | Rating | Buy Now |
| --- | --- | --- |
| Intex Explorer K2 Kayak | 4.5 | Buy Now |
| Sevylor Coleman Colorado Two-Person Fishing Kayak | 4.2 | Buy Now |
| Vanhunks Voyager Deluxe Kayak 12ft | 4.4 | Buy Now |
| BKC UH-TK181 12-Foot Tandem Fishing Kayak | 4.4 | Buy now |
| Lifetime Two Person Tandem Fishing Kayak | 3.8 | Buy now |
| Intex Excursion Professional Series Inflatable Kayak | 4.4 | Buy now |
| Elkton Outdoors Tandem Fishing Kayak, 12.2 feet | 4.4 | Buy now |
| Vibe Kayaks Skipjack 120T 12 Foot Tandem Angler and Recreational Two Person Sit On Top Fishing Kayak with 2 Seats + Flush Rod Holders | 4.3 | Buy Now |
Tandem Fishing Kayak Reviews
Kayak Buyer's Guide – What to Look for In the Best Tandem Fishing Kayaks?
Tracking and stability
In the pleasant world of kayaking, tracking means the ease of controlling and steering the vessel. Though this technique may demand a lot of practice, the kayak design has an active role to play in this. The same applies to stability. The best two person fishing kayak will be the one that holds against the sharp turns, waves, and your weight, along with the weight of the catch.
Storage space
The ideal best two person kayak for fishing requires to have ample storage space. It is another essential feature that you need to look for when shopping for the best tandem fishing kayak. Your vessel must have adequate room to accommodate the baits, rods, catch, and other gear. A kayak that has a waterproof storage hatch is absolutely handy in this case. In kayaks, space is always a problem. Thus, you need to prioritize and organize what you want to carry.
Comfortable seating
Kayaks require quite a lot of your body movements. In this case, fishing can be quite exhausting too. Hence, to make your experience enjoyable with the best tandem fishing kayak, you should ensure some comfort. It is possible only if you have a comfortable seat for yourself. If you have a good seat, you can allow your back to arch right. The seat should have a headrest, and it should come with decent padding.
Multiple rod holders
Fishing rods tend to get all tangled up. Thus, it would help if you were very well-organized. It is what multiple rod holders are for; they help you keep all the rods within your reach and keep them secure. They can come as an accessory or are in-built in some of the best tandem fishing kayaks. The installation can be further elevated by the employment of extenders, which you can buy separately.
Multiple footrests
Paddling needs stamina. Most of the stamina comes from bracing your legs for every stroke. The best tandem fishing kayak design incorporates adjustable non-slip footrests. The surface should also be multiple to enable it to account for different body postures. It gives you better control of the kayak.
Fish finder attachment
It is one of the best accessories that will prove to be incredibly helpful in your fishing trip. It is a smart technology that will always help you point in the right spot. For this, you will require a more extensive onboard fish finder or a waterproof smartphone; both of these will need an attachment accessory.
Cost
As in all kayaks, or every product you buy, cost does play a major role in helping you make a choice. In our view, you should always opt for the best 2 person kayak for fishing in your budget. However, you have to be a bit sensible while making a choice. If you have never used a paddle or cast a rod before, buying the top-notch Hobie is something you need to refrain from doing. In that case, going with the cheaper model seems more reasonable. See, you need to understand that both of them will get the job done for you, and there is no shame in going for a cheaper model.
Other Features
Fishing kayaks come packed with all these listed important and some not-so-important features that lure you into making a purchase. There are a few things that you may need, while others you do not while selecting the best tandem fishing kayak.
Having the option of mounting an additional accessory, such as a fish finder or GPS for kayaks, can be a good value addition, especially if you are planning to get more serious about kayak angling. The ability to attach a trolling motor is another thing to consider. However, before you add any bells and whistles to your kayak, question yourself – Do you need that? Would you ever use that additional feature in the future? Always weigh in your options and then decide what may be beneficial to you, now and in the long run.
Why Should You Use A Two-Person Fishing Kayak?
Fishing kayaks is one investment that you will never regret. Having said that, picking the best tandem fishing kayak may not be easy. To help you make a decision, we have come up with some of the merits and demerits of investing in the best tandem fishing kayak.
Advantages
The tandem design is excellent for student-trainer arrangement.
High speed ensured because of two paddlers
More room to stack accessories and gear
Better stability than a one person kayak
When you have a partner to accompany, you do not feel lonely.
Helps you fight loneliness- by having a partner accompany you
Disadvantages
Heavier than the other kayaks
Not easy to steer because of the additional resistance that comes from the added length
Usually pricier than the solo models
Best Two Person Fishing Kayaks: FAQs
Ques 1. What is necessary for an excellent Tandem Fishing Kayak?
Ans. After doing several tandem fishing kayak reviews, we have concluded that the best tandem fishing kayak can balance practical features in good locations. They come with adequate storage for two people and have comfortable seating with roomy leg space. Another option that you may look for in the best tandem fishing kayak is customizing the kayak in the future. For instance, there should be an option for you to include features, such as a pedal drive, GPS, fishfinder, or a trolling motor in the future if needed. However, it is not a mandatory inclusion. You surely need adequate space to accommodate two people to cast a fishing pole without hooking each other's ears, which can, and at times does not happen.
In short, when you look for a tandem fishing kayak, you need to look for one with good hardware, comfortable seating, adequate space, and decent storage.
Ques 2: Can I Use a Tandem Kayak Solo?
Ans. Well, yes, you can. If you opt for a decent tandem kayak, it will be ideal for solo users who can benefit from the added storage options and added space without having a partner on board. There is also a choice for you to take your family pet along if you wish to enjoy a day out with them on the water. However, you need to know that there are a few tandem kayaks, which are more preferred for solo use than others. They tend to come with exquisitely adapted hulls, which prevent the kayak from rising out of the water when one peddler is on board.
Even though a single person can comfortably pilot all the tandem kayaks, if you think that you will use it solo more often than with a partner, you can consider opting for a tandem fishing kayak is primarily designed for solo use only. Do go through the tandem fishing kayak reviews beforeusing it solo in order to have realistic expectations.
What makes fishing kayaks so pricey?
One thing that every one of you may have noticed through these tandem fishing kayak reviews is that the best tandem fishing kayaks are a bit on the pricier side. It is predominantly because of the materials they are made from, and the accessories that they use, such as hollow seats, nice pedal systems, among other things. Honestly, you do not need all of these accessories, but all the manufacturers are adding it, and the customers agree with the consequent price increase. As the special materials are designed keeping durability in mind, the cost of manufacturing is on the higher side.
Final Word Based on Tandem Fishing Kayak Reviews
Let us conclude by saying tandem kayak fishing is indeed a great pastime that you can enjoy with whole of your friends and family or anyone who enjoys chilling on the water. We hope with these tandem fishing kayak reviews, it is easy for you to find the best 2 person kayak for fishing.
Do let us know in the comment section below, which amongst these is your favorite best 2 person kayak for fishing and why. Also, if you have more options to add to the list, you can tell us about that too in the comment box. That is all from us for no. Happy kayaking!