9 Best Ultralight Fishing Rods: Ultralight Fishing Rod Reviews, Buying Tips and FAQs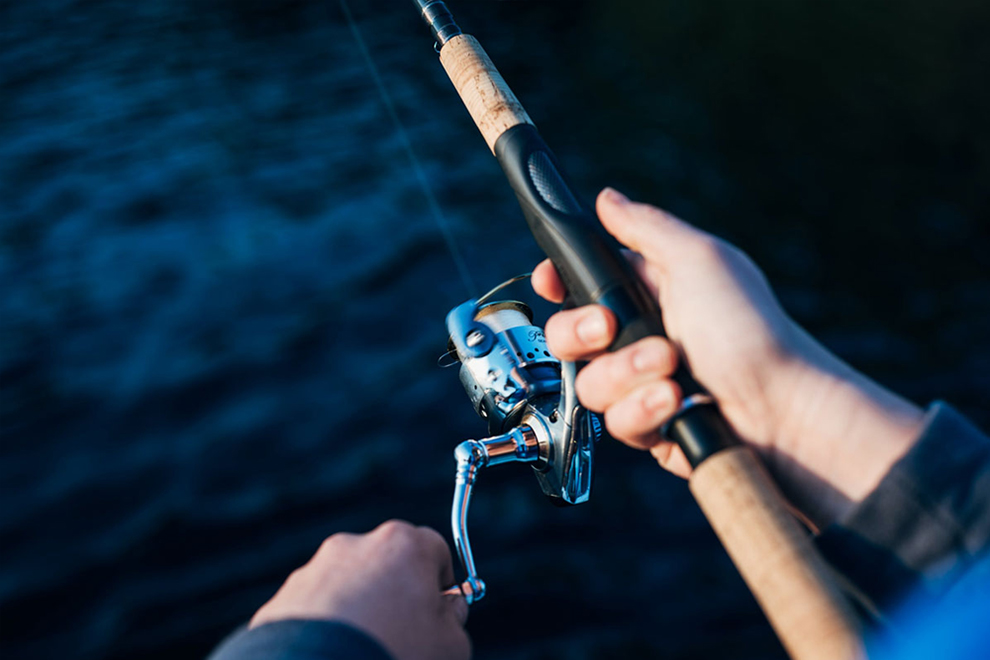 We know you are here looking for one of the best ultralight fishing rods. However, before we get to that, what exactly is the ultra-lightweight fishing rod? Keep reading to find out.
An ultra-lightweight fishing rod is a rod, which has a lighter built. It is usually shorter in length and is capable of holding lighter reels and lines. These rods are primarily used for catching small fishes, such as panfish, trout, and bass. However, some fishermen will expand their usage to catch bigger fishes too. Kayak anglers usually opt for the best ultralight fishing rods, and these are easy to store and manage.
You need to understand that the ultralight fishing rod does not quite relate to the rod's actual weight. Instead, it refers to the power of the rod. Generally speaking, the fishing rod power refers to the rod's resistance or stiffness to bending. It is usually termed as light, ultra-light, medium-heavy, light-medium, and so on. Typically, these best ultralight fishing rods are great for casting lightweight bait and lures. It is because they tend to manage lightweight lines much better than the more massive rods.
Quick Navigation
Fishing with the best ultralight rod can be a lot of fun. It is challenging, and at times, it is your best bet for success. However, shopping for the ultralight rod may bring up certain unexpected questions. That is where this article will come in handy. Here, we will dig into some vital details and give you all the required information that you probably need to select the best ultralight rod. So, let us get started and read further on this.
Best Ultralight Fishing Rods
| Product | Rating | Price | Buy Now |
| --- | --- | --- | --- |
| Okuma Celilo Graphite Lightweight UltraLight Trout Rods | 4.5 | $26.99 | Buy Now |
| St Croix Triumph Spinning Rod | 4.6 | $110 – $217.80 | Buy Now |
| Shakespeare Micro Ultralight Spinning Rod (Best Budget Pick) | 4.1 | $26.82 | Buy Now |
| KastKing Crixus IM6 Graphite Spinning Rod | 4.7 | $39.99 | Buy Now |
| St. Croix 2-Piece Graphite Ultralight Spinning Rod | 4.7 | $135.99 – $264.00 | Buy Now |
| Ugly Stik Elite Ultralight Spinning Rod | 4.6 | $49.95 – $88.89 | Buy Now |
| G. Loomis Classic Trout/Panfish SR661 GL3 | 4.5 | $250 | Buy Now |
| Shimano Stimula Rod Review | 4.1 | $29.99 | Buy Now |
| Sougayilang Ultralight Fishing Rod | 3.9 | $35.99 | Buy Now |
Tips To Shop For The Best Ultralight Fishing Rod
Action
See, rod action stands for the point at which there will be a bend in the rod when you try to catch a fish.
Typically, there can be two types of actions.
Fast action
In this, the rod will stay stiff all through its length and usually bends only at the tip.
Slow action​
In this, the rods do not stay still throughout; instead, it tends to bend somewhere in the middle.
Usually, the ultralight fishing rods are designed with moderate or fast action. They tend to offer a sensitive, delicate tip, which bends quickly. When the load increases, you can feel the resistance to bend from the rod blank.
A fast action ultralight rod does go beyond the tip owing to its bend. However, it does offer adequate control that can help you pull even a large fish, such as salmon. On the other hand, a moderation-action ultralight fishing rod will bend well beyond the tip before the blank gets time to display any resistance.
Often, we end up with a parabolic arc. Thus, helping us cushion the light line with a considerably heavy load from the fish. You may lose some control here, but what you will gain here is shock absorption.
Length
We studied and performed ultralight fishing rod reviews for a myriad of rods and concluded one thing. Most of the ultralight rods are equivalent to or below 7 feet in length. If not, the casting accuracy will be compromised. Generally speaking, the longer rods happen to cast further, but those casts might not be the most accurate ones. On the other hand, the shorter rods happen to be very accurate, but the casting distance does suffer in their case. The ideal way out is seeking a balance in between.
Light action best ultralight spinning rod will primarily be on the shorter end of the spectrum. The reel seats will not be able to hold enough line. If you still wish to cast longer distances, an ideal option would be to look for a rod that is approximately 7 feet in length and simultaneously opt for a stiff ultralight rod.
The thing is, when the rod is relatively stiffer and has a long length, it would enable you to achieve the requisite goal more efficiently.
Power
The force needed to bend the rod is what we refer to when we use the term power. The rod's action, in combination with its power, gives you the requisite idea of how your rod will perform. Ultralight rod means that the blank's power is ultra-light. It means that it will bend when exposed to modern loads.
See, even if the rod is rated as a fast-action rod, a lightweight fish will surely attract your attention. Please know that ultralight, in no way, means weak. It is a myth, and there is no basis for it.
​Guides
Friction does happen to destroy two, four, and six-pound tests. Therefore, good guides are indeed a necessity when it comes to ultralight rods. Please do not think that since the fish we aim to catch hold of with the best ultralight rod are relatively lightweight. Consequently, you cannot test the rod guides much.
Not much heat and friction are required to combat even the most solemn lines with cheap-quality guides. The ideal way to test the guide quality is to see the line you intend to use against an extensive guide. If the line breaks fast, then under no circumstances should you for that rod, regardless of how incredible the other features are.
Handle
Selecting a handle is more about your personal preference. See, what may be comfortable for you may not be for others. In fact, what may be comfortable for you might even be the breaking point for many others. In handles, we usually find two different handle types. Let us take a look at them one by one.
Cork- This tends to be more attractive and warmer, but it cannot hold on to rough treatment.
Eva foam – This tends to be a lot cooler and softer to touch. Moreover, it is very tough. Thus, it will stay intact even when you treat it roughly.
Line and lure weight
One should opt for rods with line weight ratings between the range of two and six pounds. The lure size must start from 1/64 of an ounce and can go up to ¼ to ½ ounces.
Material
Today, you can find the rods made of a variety of different materials, such as fiberglass, graphite, and carbon fiber, unlike their traditional counterparts. Many manufacturers have taken the best ultralight fishing rods a notch higher and have come up with rods engineered with hybrids, meaning the rods are composed of more than one material. It will give you the best of both materials while simultaneously eliminating the shortcomings for both.
Some of the commonly used materials in the rods include:
Fiberglass
Fiberglass is indeed a lot stronger than graphite. It is also relatively less expensive. However, the problem with fiberglass is that it happens to be a bit on the heavier side and is not very sensitive.
Graphite
It is durable because of it being stiff and strong. Moreover, it is sensitive and ultralight too.
Carbon fiber
It is a hybrid. So, in it, the best of both fiberglass and graphite is mixed. Thus, these best ultralight fishing rods are more substantial, stiffer, and still very lightweight. There is no material at present to tell you the truth, which can compete with this level of performance. However, the problem is that this material can be a bit pricey.
Eyelet count
If the eyelet count is more, it makes it easy for the rod to overpower and cast. Moreover, it also accentuates the rod balance. Consequently, it leads to an even distribution of the load on the fishing rod.
The Price
Be it amateurs or pro anglers; the price is undoubtedly a vital factor of consideration when shopping for the best ultralight fishing rods. Please know that you do not always have to spend a ton of money to get the best ultralight rod. If you are just venturing into the world of fishing, we would recommend you to read through our ultralight fishing rod reviews and invest in low-cost rods, which offer you a good value for money.
However, if you are an experienced fisher, you have complete flexibility. If your budget allows, you can shop for the more expensive and featureful models, but if you are low on budget, you can go with the low-cost rods too. Before you invest in any of the rods, please bear in mind, what may be the most expensive, may not always be the best in quality. So, the cost is not an assurance of quality. The route that you need to take is first to determine our budget, and then consider all the vital factors, enabling you to find one of the best ultralight fishing rods.
Frequently Asked Questions
Ques 1. What are ultralight rods good for?
Ans. The best ultralight fishing rods respond to a minimum degree of pressure. This can ensure that your fishing day is a lot more thrilling and exciting. Often when you chase a smaller fish, you can feel as though you are catching hold of a fish, which is relatively heavier. You will find this type of rods predominantly for the smaller fishes, such as bass, crappie, bluegill, and trout. The ultralight rod refers to the power rating as it happens to be a lot lighter than the standard fishing rod. They are smaller in length too. This makes the best ultralight rod perfect for fishing the fishes from the smaller fish breeds.
Ques 2. Most ultralight fishing rods are spinning rods. What is the reason?
Ans. Well, it is true that usually, ultralight fishing rods are spinning rods. It has got more to do with the casting than the ease of usage. While it is easy for you to use your best ultralight spinning rod, it is not the sole reason spinning rods are a famous medium for them. The primary reason is that it is relatively easier to cast lighter lures using spinning reels. Ultralight fishing rods need lighter lures. However, not every rod will give you adequate control over the light lures. The best ultralight spinning rod does it very well. Hence, it is a more popular medium as compared to the other available options.
Ques 3. What are the prime benefits of using an ultralight fishing rod?
The primary benefit of using the best ultralight fishing rods is that it lets you cast long distances using compact weighted lures in small lakes. Since the rods are relatively tinier in length and size, they make it easy for you to flick around the rod quickly, and your lure is more susceptible to ending up in the place that you want them to be.
Some ultralight rods are easy to use. This makes them ideal for anglers at a beginner level as it offers them a phenomenal introduction to the world of fishing.
Ques 4. Are ultralight fishing rods pricey?
See, as it may be true for everything you shop for, yes, even the ultralight fishing rods can be expensive. On reading through the ultralight fishing rod reviews, one thing that you may have deduced is that the price mostly depends on your choice of brand. There are some brands that (though great) are naturally on the more expensive side of the spectrum as compared to the other. However, you can easily deduce from our ultralight fishing rod reviews that you can find the best ultralight fishing rods without burning a hole in your pocket. We have tried to list some of the best and the most affordable (value for money) picks. You can check them out. Be assured, with our listed range; you will never regret your decision for even a day.
Conclusion
You may indulge in fishing every day or every weekend, but it will not be every day that you invest in a fishing rod. Also, you need only one rod that can take you through several hundreds of your fishing trips. However, the chosen rod will last you long only if you carefully read through our ultralight fishing rod reviews, and pick the one that justifies your needs, is affordable, durable, and fits in your budget.
Hence, to find the best lightweight spinning rod, you ought to endeavor. So, study through our listed review, understand and compare the features, pros, and cons, and then pick one from our best ultralight fishing rods list. Please bear in mind, our guide and ultralight fishing rod reviews are intended only to help you make the right choice. So, use this guide wisely, and make your fishing experience more thrilling and enjoyable. Happy fishing!