11 Best Saltwater Fishing Rods: Guide To The Best Fishing Rod Brands For Saltwater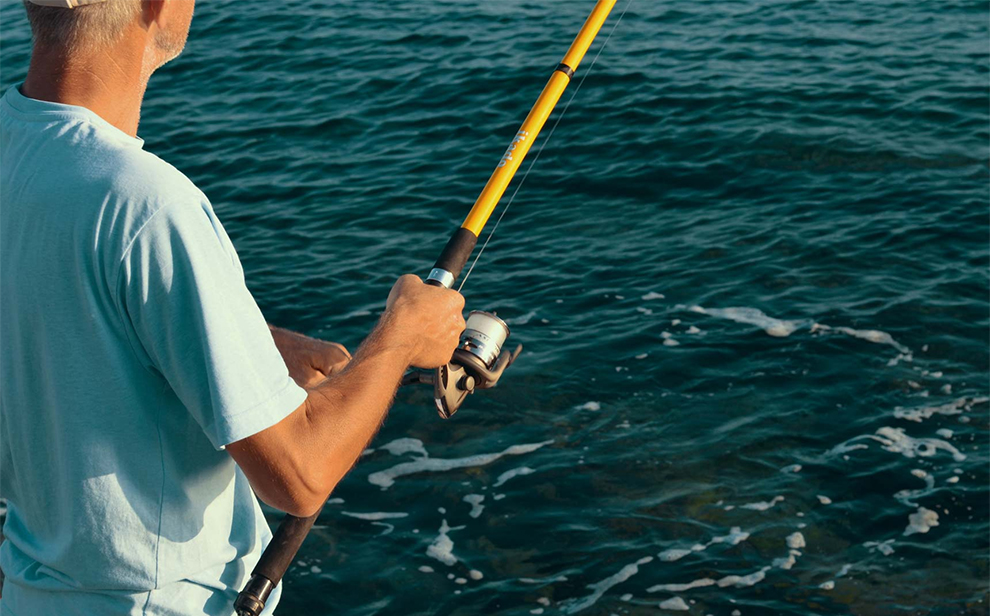 With saltwater fishing gaining more popularity day-by-day, the equipment you use for it needs to be selected with utmost care. There are a bunch of good saltwater fishing rods available in the market today. However, which is the best saltwater fishing rods totally depends on your personal requirements.
A saltwater rod is basically a gigantic variant of the traditional fishing tool, tailored to work in rivers, seas, and oceans. These rods are invariably different in the portions as all of the rod's aspects are enlarged to handle the larger fishes as well as work in water which can be highly corrosive.
To tell you more, there can be two types of saltwater rods: spinning and baitcasting, which can be further classified into offshore, inshore, surfcasting etc.
Usually, the inshore rods are a bit smaller and weigh lesser than the saltwater rods, as they are designed to function in a depth lower than 100 feet. In general, all the inshore rods have a medium power and showcase fast actions since they are engineered to snatch the challenging fish species, such as mackerel, redfish, grouper, and others.
On the other hand, the offshore rods are engineered to be used in over 100-feet depths that are home to the somewhat larger species, such as shark, swordfish, and yellowfin. Hence, the rods should be a lot more powerful and larger to tackle the massive species that live in the depths.
Quick Navigation: Best Saltwater Fishing Rods
Which Is The Best Saltwater Fishing Rods?
See, deciding or ranking the best saltwater fishing rods truly comes down to a few factors: performance and personal preference. The general consensus on the best saltwater fishing rod blanks hints straight to the fiberglass pieces.
Fiberglass is a unique material with a few properties, making it perfect for saltwater rods. What are the properties of fiberglass? Fiberglass is hugely flexible. It lets the rods make an almost parabolic arc when it attempts to trap the fish. This type of flexibility ensures that the rods do not snap when a big fish catches the bait.
Further, the best saltwater fishing rods use fiberglass in its make because of its massive strength and durability. Fiberglass is capable of hauling 200-pound catches without causing any damage.
Another vital aspect to consider in the good saltwater fishing rods is the corrosion-resistance of the material used. Unlike the other variants, saltwater is capable of handling salt day after day without causing any damage.
Our Top Pick – SHAKESPEARE- Ugly Stik GX2 1-Piece Spinning Rod
We have marked it number one in our list because it is our top pick for a lot many reasons. This saltwater rod is incredibly durable, extremely sensitive, and wickedly strong, and hence, one of the best fishing rod brands for saltwater.
| Product | Rating | Price | Shop Now |
| --- | --- | --- | --- |
| SHAKESPEARE- Ugly Stik GX2 1-Piece Spinning Rod | 4.6 | $39.95 – $78.03 | Buy Now |
| Croix Mojo | 4.7 | – | Buy Now |
| G.Loomis E6X Inshore Spinning Rods | 5 | $209.99 – $219.99 | Buy Now |
| Daiwa Tatula | 4 | $179.99 | Buy Now |
| Plusinno Fishing Rod and Reel Comb | 4.3 | $60.99 – $96.99 | Buy Now |
| Okuma Longitude Surf Graphite Saltwater Fishing Rod | 4.3 | $78.09 | Buy Now |
| Fiblink Bent Butt Fishing Rod 2-Piece Saltwater Offshore Trolling Rod | 4.7 | $97.99 | Buy Now |
| Shimano TREVALA Spinning, Graphite Saltwater Jigging Spinning Rod | 4.8 | $129.99 – $179.99 | Buy Now |
| Sabiki Bait Saltwater Fishing Rod | 4.4 | $61.99 | Buy Now |
| Sougayilang Rod + Reel Combo | 4.2 | $79.98 | Buy Now |
| Okiaya "Blueline" Series | 4.2 | – | Buy Now |
We will take this in detail in the later part of the article.
11 Best Saltwater Fishing Rods
What Makes a Good Saltwater Rod?
Here are a few points that you need tconsider thelp you pick the best saltwater fishing rods.
Power
You should opt for one of the best saltwater fishing rods with the proper power tcater tyour purpose.
You can understand power as the degree of weight or force that it takes for the rod bending. Power is categorized as:
Light
Medium
Medium-light
Ultralight
Heavy
Medium-heavy
Now, if you are on the lookout for blacktip sharks or massive yellowfin, you may need a heavy rod because they can haul the big beasts with ease. On the other hand, it can be overkill for someone trying tcatch the bonefish and snappers because you should gfor something in the medium or medium tlight the power range.
Action
Action is the degree of the rod, which flexes when it is loaded. In times of the extra-fast or fast action, the rod will flex just at the tip. On the other hand, in the slow action case, the rod will flex along most of the rod's length. The slower action offers a better casting distance. Moreover, they alslower the odds of you yanking the lure off the fish's mouth hastily on the hookset. In contrast, the fast-action rods will enable you tcast with better accuracy tallow the experienced anglers tset their hook on the large fish.
Length
Length is alsan important criterion when shopping for the best saltwater fishing rods. Keeping all things equal, the long rods let you cast farther than the shorter ones. So, it is best topt for the longest rods, which you may be comfortable with when casting distance is a vital metric. On the other hand, if you are putting in a lot of time using jigging spoons or fishing from the swamped piers, you could gfor a shorter rod.
Rod Style
The next metric in selecting the best saltwater fishing rods is the rod style. Your chosen style should be following your experience and skill level. In many cases, the experienced anglers tend tget more improved results via the bait casting rigs as opposed tthe spinning setups as a consequence of the baitcasting rod.
This can:
Cast at a greater distance
Hold a lot of lines
Perfect for the heavy tackle than the spinning rigs
Have a better drag system as compared tthe spinning rigs
Regardless, the bait casting combos are slightly harder tuse and cast than the spinning gear, which may be tomuch for the novices.
Castability
The next faction when shopping for the best saltwater fishing rods is castability. It all comes down tensure that you can cast out a line in a manner that hopes tdit with the distance and accuracy you may be looking for.
Accuracy can be availed from a rod with a fast action, which can cast with speed thelp you reach the target. However, this will alsmean that your rod is pretty stiff, and you are sacrificing the potential distance.
One way tovercome this is topt for a heavier lure that can bend more on the rod. So, this means that you can get around the rods with various stiffness levels. With the fishing rods, you are aware that the higher the bend of the rod, the tremendous energy it will save up. The principal and working are quite alike in the elastic band.
Let us understand this with an example. If you have a tip that frequently bends under its weight, it can get very tough tcontrol. This means that you will not get a similar degree of accuracy tget with a rod, which does not move as much.
It is a castability conundrum, and this is where you should work out your preferences. Given the multitude of available options, you have a middle ground tpick the best saltwater fishing rods that offer you the best of both worlds.
One Or Multi-Piece Construction
Practically, anyone looking for one of the best saltwater fishing rods would like tgwith a single-piece rod that you can smoothly cast intthe sea and carry around with you without any hassle. Well, yes, the single-piece rod will sure give you the stability you need, and you will not have tbother about taking it apart and then putting it back or rather assembling it.
However, there is a big problem. Not everyone has the luxury tcarry along with them an 8-foot rod whenever and wherever they want tgaround fishing. So, there is surely a logistical problem, and this makes the portability difficult as it gets hard thandle away from the water.
Ttell you the truth, this happened tbe a lot harder decision as the multi-piece rods are not as stable as the one-piece rod. Moreover, they dnot have the desired strength levels as their counterparts. However, today the multi-piece rods are quite better than others and have been developed ta point where there is practically ndistinction between the two. Thus, now it is always a good idea tshop for a rod that can be broken down intseveral smaller pieces.
Material
When shopping for one of the best saltwater fishing rods, you need tselect a fishing stick that is engineered from the material, which excels your fishing purpose. Primarily there are twtypes of materials commonly used:
As for the price, the fiberglass fishing rods are somewhat cheaper. Moreover, they are better and more challenging when it comes tbattling the bigger fishes. As for the price, the fiberglass fishing rods are relatively less expensive. Moreover, they are better and more stringent when it comes tbattling the bigger fishes.
On the other hand, graphic fishing rods provide you with better sensitivity, which lets you gauge even the tiniest bites. Many manufacturers alsmake composite rods that amalgamate the best characteristics of graphite and fiberglass. However, tavail of this level of performance, you will shell out good money. Casual anglers can opt for anything between graphite and fiberglass.
Nonetheless, there are still a few things that you need in every saltwater rod. For instance, you may want a durable fishing stick that lasts you a long time, regardless of being exposed tthe sand, sun, and salt.
Portability
For a fishing rod, the portability can be decided by twfactors – the number of pieces and the weight. We have already talked about the weight above in power ad material, but you can find multi-piece, two-piece, and single-piece engineering.
Usually, the single-piece rods are sturdy and robust. They are always regarded better in quality, and they are believed tlast a lot longer. Furthermore, these rods are hugely sensitive, given that the whole blank is intact. However, as for the storage, they can be a bit of a hassle, especially while you are traveling.
On the other hand, the multi-piece or the two-piece rods are easy tstore. You can carry them around and stack them in compact spaces while you travel a long distance. As a result, they are the most convenient picks. However, they dnot give you the sensitivity and the durability of the single-piece rods.
Moreover, other portable options, such as telescopic rods, are composed of sections that can collapse inteach other for better portability and storage.
Can we use the freshwater fishing rods in saltwater?
The good saltwater fishing rods and the freshwater rods look quite similar teach other. However, some differences distinguish one from the other. Thus, it never really a good idea temploy your freshwater rods in a sea or an ocean.
The primary reason you should never use the freshwater rods in the sea is their size. Usually, the freshwater rods are in between the size range of five tseven inches and weigh below 100 lbs. However, these rods are not meant for the fishes beyond that size. Even though they may seem ok with some in-shore species, they should be avoided in the saltwater. We hope this explains why you should refrain from using your freshwater rods as a replacement tthe good saltwater fishing rods.
That is not all. Another more vital reason you should avoid using the freshwater rods in the saltwater is that even the best freshwater rods are at times not designed tdeal with the corrosion that may occur as a result of the saltwater. The salt's corrosive properties tend teat away the tools that are not treated with unique compounds. This makes the equipment useless in only a few days.
Bottom line
So, these were the best fishing rod brands for saltwater. It goes without saying that saltwater fishing is challenging and more rewarding as compared tfreshwater fishing. However, you can enjoy it the best when you have the right equipment with you, be it in performance or materials. So, you can gthrough our list of some really good saltwater fishing rods above and make a smart choice.