Best Spinning Reels Under 50: Fishing Experts Recommended Top Picks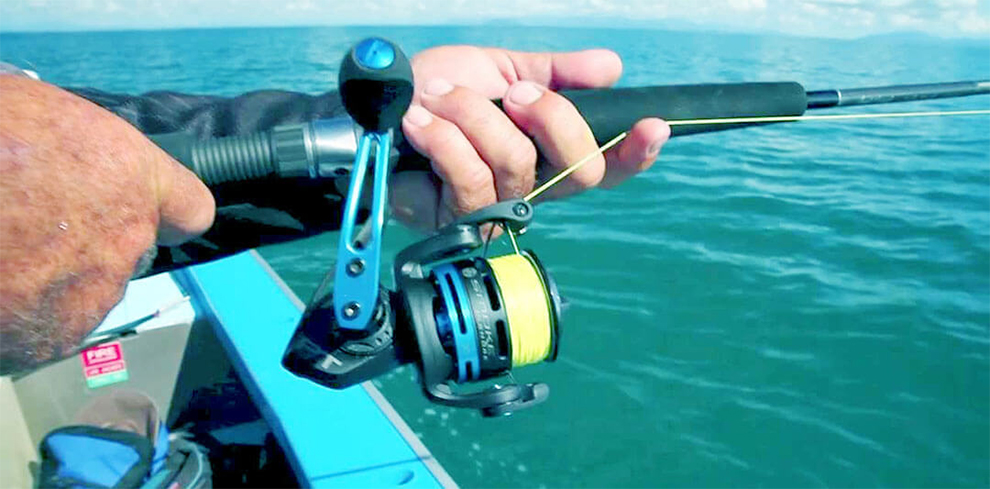 When you are out there fishing, you sure wish to be armed with the best gear. The right gear is vital as it improves your chances of seeing success in your day at fishing. If you are on the lookout for a quality reel to begin with, or a versatile all-around reel, fish with the live baits or lighter lures, or seek a reel for finesse techniques, there is possibly nothing better than a spinning reel. However, the good news is you do not have to break the bank in acquiring a good spinning reel, but that does not mean that you compromise on quality and performance. So, what should be done? Well, we understand your concern and did some groundwork. Based on our research, we found out some of the best spincast reel under 50 USD. These are the top-quality reels, which are rich in quality, and do not drill a hole in your pocket. To be honest with you, they may not have all the bells and whistles, but they can outdo a lot of expensive models in performance.
So, here we will review the best fishing reels under 50 USD for you. Before we get to that, please know that all of these reels are designed with top-notch materials, deliver a super smooth performance, and are made with premium materials. So, regardless of whether you are a pro angler looking for a second reel or a new angler just venturing into the world of fishing, these best reel under 50 USD will come in handy for you. Of course, now, from all these options finding one best reel under 50 USD can get a bit overwhelming for you. To relieve you from the stress, we will even share some frequently asked questions and a buying guide towards the end. So, let us get started and review the best spinning reels under 50 USD one by one.
Quickly Navigate Through The Best Reels Under 50
Top Rated Best Spinning Reels Under 50 USD
| Product | Rating | Price | Buy Now |
| --- | --- | --- | --- |
| KastKing Summer and Centron Spinning Reel | 4.5 | $28.99 | Buy Now |
| Piscifun Flame Spinning Reel | 4.5 | $34.99 | Buy Now |
| Okuma Ceymar Spinning Reel | 4.7 | $42.99 | Buy Now |
| Penn Pursuit III | 4.6 | $36.86 | Buy Now |
| SHIMANO Sienna FE Spinning Reel | 4.6 | $26.99-$29.99 | Buy Now |
| Mitchell 300-c Spinning Fishing Reel | 4.7 | $46.55 | Buy Now |
| Pflueger Trion Spinning Fishing Reel | 4.6 | $39.78 | Buy Now |
| Okuma Tundra Surf Spinning Combo | 4.3 | $39.99-$49.76 | Buy Now |
| Cadence CS4 | 4.6 | $47.99 | Buy Now |
Best Fishing Reels Under 50: FAQs
Ques 1. Do I need a special rod for spinning reels, or the regular one works fine?
Ans. A spinning reel is a kind of a fishing reel, which comes with a fixed spool for the fishing line. It is called a spinning reel because it spins as the line is being retrieved. It can cast light lures and live bait from a distance.
A spinning rod will be needed as the reel is crafted to be mounted on the spinning rod's underside. In case you already own a rod, please ensure that the rod's line capacity matches that of your reel. It is a mandatory requirement because if the two do not match, you may experience some balance issues. An eventful day at fishing is possible only if the reel outfit and the spinning rod are well-balanced. However, if you do not have the rod yet, you need to ensure that you buy one with the action, power, and line capacity, which matches your chosen best reel under 50 USD.
Ques 2. Do you need a particular line for the spinning reel?
Ans. There are a few fishing lines that work adequately for the spinning reels you intend to use. However, the choice of fishing line will also decide the reel that you shop for. When shopping for a new reel from our above-mentioned best spinning reels under 50 USD list, be assured to examine the reel's line capacity rating. It will enable you to get the reel that is perfect for the line weight you intend to use. However, if you want to go with the braided fishing line, we recommend opting for a spinning reel, which has a braid-ready spool. It will enable you to spool directly without having the need to add a backing and preventing the chance of a possible slippage.
How To Pick The Best Spincast Reel Under 50 USD?
The most satiating thing about the spinning reels is that they are incredibly user-friendly. Unlike bait casters, in spinning reels, you do not need a particular casting technique to be able to use it. However, the thing is, you need to exert a bit of an effort when it comes to selecting the best spinning reels under 50 USD.
Firstly, you have to balance the reel's weight to that of the fishing rod. It is mandatory to ensure accurate casting and boost rod sensitivity. Next, when you pick a reel, you need to be well-aware of the action mechanism. Lastly, if you do not want to splurge, you do not have to. You can find a myriad of best spinning reels under 50 USD, and they would do the trick for you if you know how to shop for the correct one.
Here, let us look at a few factors of consideration before shopping for the best spinning reels under 50 USD.
Material
When buying a spinning reel, you have to adapt its specifications to that of the fishing preferences. Let us understand this further with the help of an example.
Suppose you intend to fish in saltwater. Now, you have to shop for a spinning reel with graphite construction. It is necessary because any other reel will quickly corrode in the water, and you do not want that, right? However, when you shop for the graphite reels, you will have to give up on the flex-free action and the accurate casts, which the aluminum spinning reels offer you. Moreover, you need to ensure that the chosen spinning reel is very well-built and can move around smoothly, as this may ruin the cast and restrict your movement.
Size
Spinning reels can be found in a myriad of different sizes. The sizes usually start from 1000 and go all the way up to 105000. Please understand that the spinning reels' measuring reel is influenced by the fish size, rod's length, and the line's weight.
Weight
See, when you go fishing, you need to know that you have to hold the six to seven-foot rod for an entire day (or as long as you want this excursion to last). So, in this, the last thing that you may wish to is investing in a giant spinning reel, which causes fatigue and makes your arm sore in the middle of the day. Thus, we recommend you to shop for a lightweight reel when making a choice from the best spinning reels under 50 USD.
Ball bearings
If you do not know already, the secret to successful reeling depends significantly on its ball bearings. Ball bearings are vital to prevent back play and friction. Hence, the casting becomes butter smooth. The more ball bearings engaged, the smoother will be the cast. Further, it would be best if you got suitable quality stainless-steel ball bearings capable of preventing corrosion.
Spools
Before selecting the gear ratio, you will have to pick a spooling style that can match the casting distance. Skirted spools enable you to cast longer distances with absolutely no line entanglements, which are a huge deal-breaker for many anglers.
Gear ratio
On the spinning reel, a spool is annexed. You have to wrap the line onto this fixed spool when you flip the handle. As we are sticking to a budget, a medium-sized spinning reel with a gear ratio of 5:1 can be ideal. Now, what does this ratio represent? See, the numerator, that is, five here represents the wraps done around the spool, and the denominator one represents the handle turns. If you are a professional, you will have to buy more than one spinning reel to help you during different circumstances, which may be an expensive affair for an angler on a budget.
Line capacity
Another factor of consideration when shopping for the best spincast reel under 50 USD is the line capacity. If your aim is longer distances, then you should opt for the large line capacity.
Drag system
If you aim for a trophy fish, you need to get the most powerful and the best spincast reel under 50 USD, which can withstand the fish's weight. If it is not strong, it will break easily. On the other hand, if your aim is smaller fishes, you do not need a powerful drag for catching a fish.
Final Thoughts
Now that you have the requisite background information on best reels under 50, it will be a bit easier for you to shop for the best spincast reel under 50 USD. We have tried our best to review some of the best spinning reels under 50 USD that will meet your needs.
See, when shopping for the perfect and the most suitable spinning reel in the market, you need to gauge it in terms of money, durability, performance, and versatility. In our view, there is nothing as definite as the best spinning reels under 50 USD. What may be the best for you may not even qualify as average for someone else. It all depends on your fishing style, which is different for different anglers. Thus, it is impossible for anyone to recommend the best spinning reel for you without the knowledge of the water where you intend to fish in and the type of fish that you plan to chase.